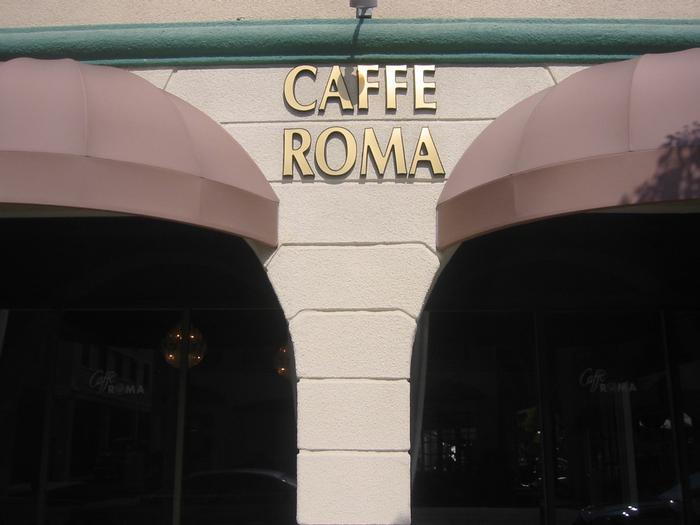 350 N. Canon Drive
Beverly Hills, CA 90210
Tel. 310-274-7834
Website: www.cafferomabeverlyhills.com
Opening Hours: Lunch, Dinner and open throughout the day
Credit Cards: All Major
Prices: Moderate-Expensive
Many years ago, Caffe Roma, was frequented by a smart crowd for lunch or so they thought, when Realtor, Elaine Young among others, held court, until over the years this cafe's lunch crowd grew older and fewer showed up; and in the evening it appealed mainly to middle-eastern types that hung-out to hear Arabic music played nightly. Finally, due to poor quality of food and service the restaurant on most days was mainly deserted.
Enter Ago Sciandri, owner of Ago and Sor Tino, and one of the founders of Toscana, Brentwood who has now acquired Caffe Roma and all of this has now changed. He has breathed a new infusion of fresh life into the menu and the overall spirit of this cafe/restaurant. Ago has installed Piero Topputo, previously of Toscana, as the new chef, and he has overhauled the menu. The new menu offers sophisticated dishes including: pappardelle with wild boar ragu, fettuccine with summer truffes, spaghetti with sea urchin, and taglioni with scampi bottarga, orechiette laced with broccoli and pecorino, cavatelli with rapini, broccoli and mixed seafood. There is Jazz music as well as a live DJ Wednesday through Saturday.
The Governor of California, Arnold Schwarzenegger, was known to turn up to smoke cigars in the patio dining area before the smoking ban was passed in Beverly Hills.