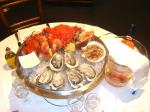 71 Avenue de Suffren, Paris, 7500
Tel. +33 (1) 47 83 27 12
Fax: +33 (0)1 46 06 62 35
Opening Hours: Monday-Sunday, Lunch: Noon-2:30pm
Dinner: 7:30pm– 11pm
Credit Cards: All major
Website: http://www.vin-et-maree.com
Prices: Moderate-Expensive
Vin & Marée Suffren restaurant in Paris is the smallest, in terms of seating, of this restaurant group and located in the fashionable 7th arrondissement. The interior décor is kept extremely simple in beige and rusty tones with tables draped in white tablecloths. The menu's accent is on fresh fish that is yanked from the sea off the coast of Brittany and Normandy just a few hours before it arrives on your plate, usually in small lots from independent fishermen. The preparation of the delicate fish is kept uncomplicated and most of the wine list leans toward whites as would be expected.