By Sandy Driscoll
All images in this post are © 2010 by restaurant.kitmarshal.site and Sandy Driscoll
The Bazaar by José Andrés
465 S. La Cienega Blvd.
Beverly Hills, CA
Phone:  310-246-5555
Hours:  6pm – 11pm Daily
Valet Parking – $12
Credit Cards – Yes
Let's cut to the chase!  If you have only one evening to spend dining in Los Angeles, go to The Bazaar!   Written kudos have been flying about since early 2009, when
Chef José Andrés
first opened his stunning restaurant.   Just to mention a few…………James Beard award winning chef, GQ magazine 2009 Chef of the Year, Esquire's 2009 Restaurant of the Year, and a very rare four star rating given out by LA Times critic, S. Irene Virbila.  
http://www.latimes.com/features/food/la-fo-review18-2009feb18,0,477326,full.story
With all that publicity, it's a lot to live up to.  Friday, I and three others were the delighted guests of our friend, Phil Selway, as we spent just over three hours enjoying food that was amazing, delicious, stunningly conceptual, and beautifully presented.   Organized as a tapas dining experience, plates are meant to be shared.   We had a total of 13 items before moving to the Patisserie for dessert.  Serving vessels, which range from marble slabs to oval sardine-type tins are both functional and attractive.  Micro herbs and flowers punctuate many of the dishes.  Service is exception at every level.
The Bazaar, located inside the SLS Hotel,  is beautifully designed by Philippe Starck. Comprised of five dining areas seamlessly woven into the large space, the whole effect is of a nightclub in a restaurant.   It's at once formal and fun, relaxing and fascinating.   Each taste treat seemed better than the last.   If I had to pick favorites, I would say the "Philly Cheesesteak", King Crab with Raspberries and, of course, those infamous Liquid Olives (of El Bulli fame) were tops.   (José Andrés trained under Ferran Adria.)  There are about 80 items on the menu.  My culinary dream would be to work my way through the remaining 67!
Enjoy the photos, and if at all possible, get thee to The Bazaar!
Phil Selway watches as our waiter concocts the spectacular and delicious LN2 Caipirinha Cocktail (Brazilian cachaca, fresh lime and sugar frozen by using Liquid Nitrogen.)   Tableside service.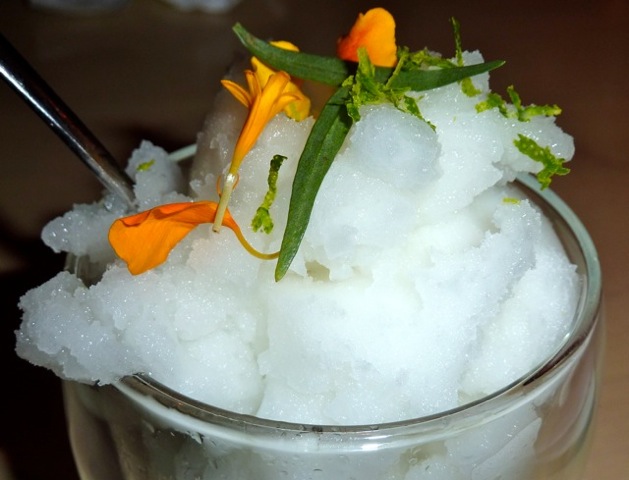 The potent LN2 Caipirinha Cocktail  is  the world's best 'slushy' with a sublime texture that lasts and lasts until the final drop!
Consulting with the Sommelier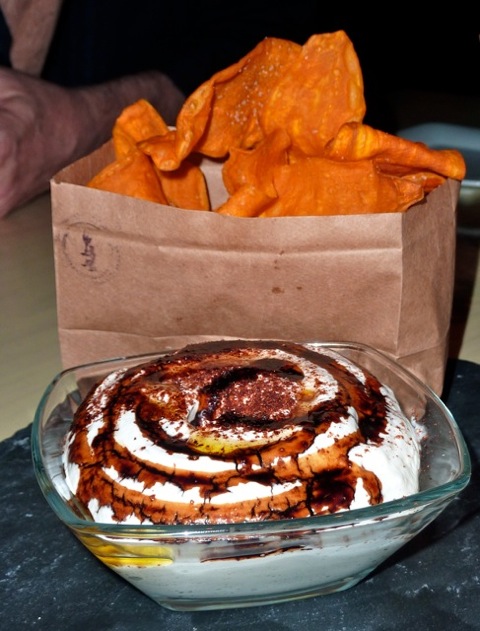 Sweet Potato Chips with Yogurt, Tamarind and Star Anise

Catalan style Toasted Bread, Tomato (served with the Jamon platter)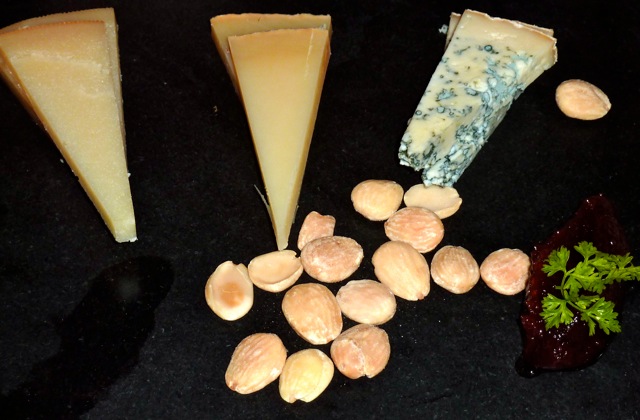 Three Cheeses …. Manchego, Valdeon and Idiazabal with Picos, Quince Jam, Almond
Fermin Platter…..Jamon Serrano  (dry cured ham), Jamon Iberico (dry cured, free-range Iberico ham) and Jamon Iberico de bellota(Acorn-fed, free-range Iberico ham)

A lovely Spanish Red wine
American Caviar Cone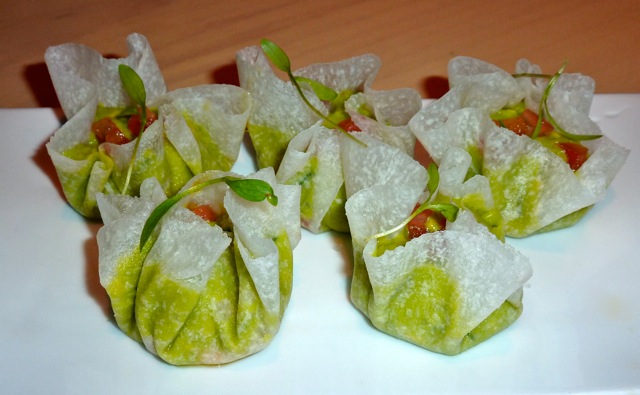 Jicama Wrapped Guacamole with Micro Cilantro, Corn Chips
Modern and Traditional Olives (in the rear are the 'Modern' liquid olives of El Bulli fame)
King Crab, Raspberries, Raspberry Vinegar
Green Asparagus, Labneh, Macadamia Nuts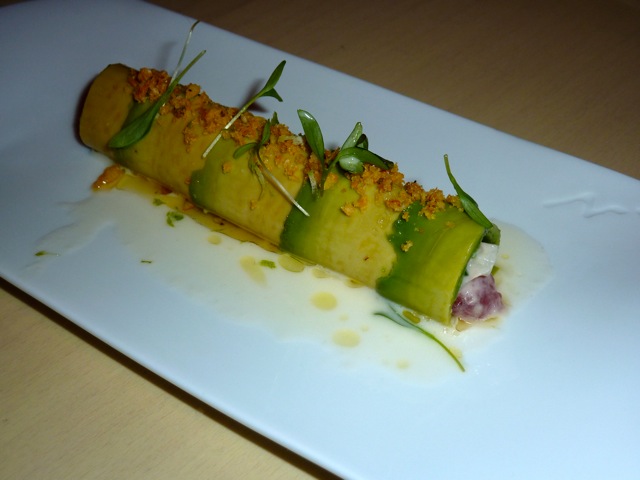 Tuna Ceviche and Avocado Roll (Jicama, Micro Cilantro, Coconut Dressing)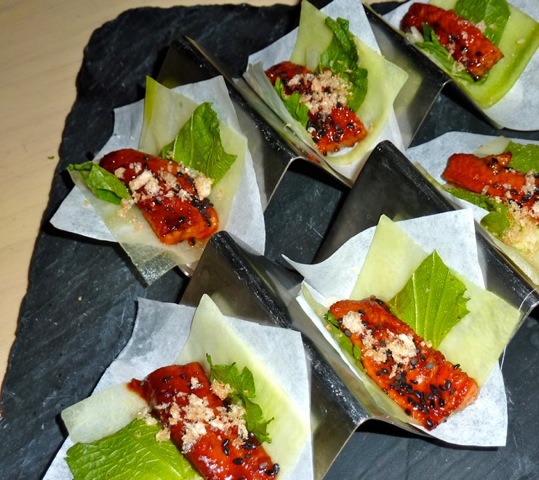 Japanese Tacos (Grilled Eel, Shiso, Cucumber, Wasabi, Chicharron)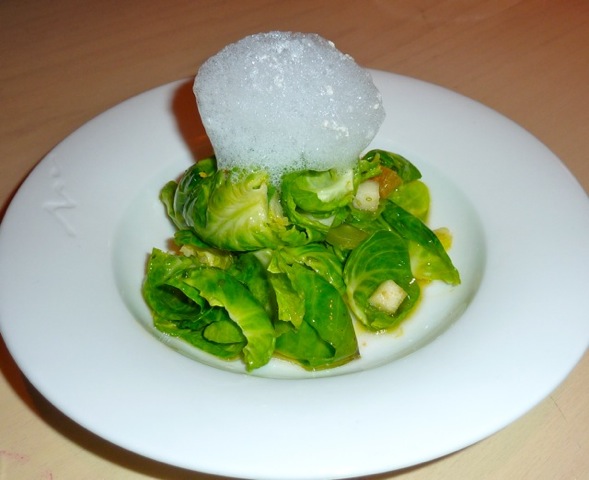 Brussels Sprouts with Lemon Puree, Apricots, Grapes, Lemon Air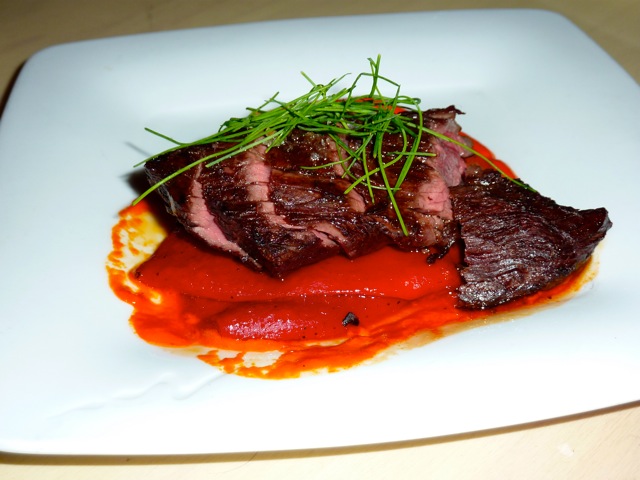 Beef Hangar Steak with Piquillo Pepper Confit, Natural Jus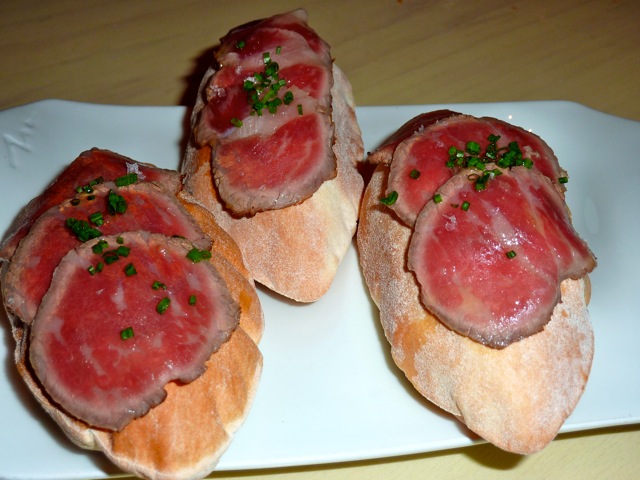 "Philly Cheesesteak"  Sandwich ….. Air Bread, Cheddar, Wagyu Beef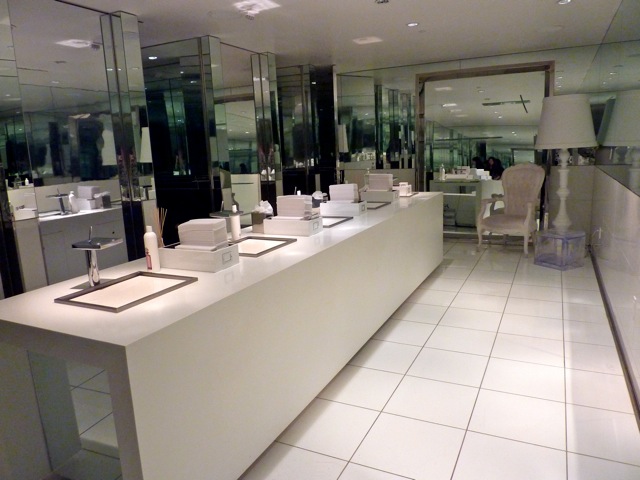 The Ladies Restroom!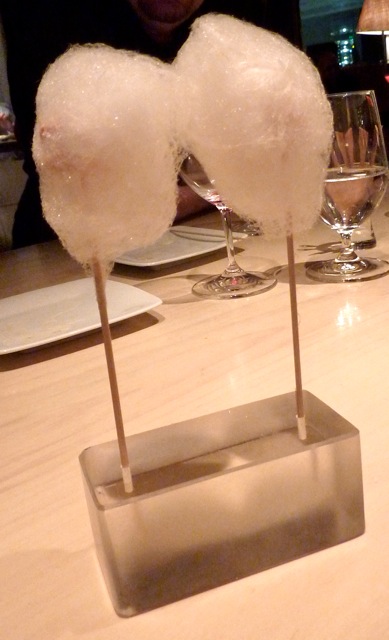 Cotton Candy Foie Gras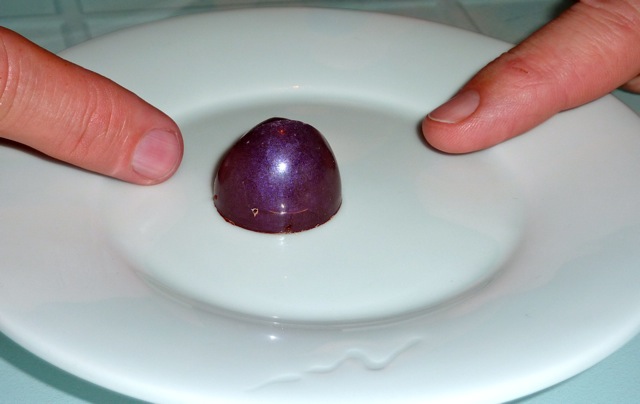 Earl Grey Bon Bon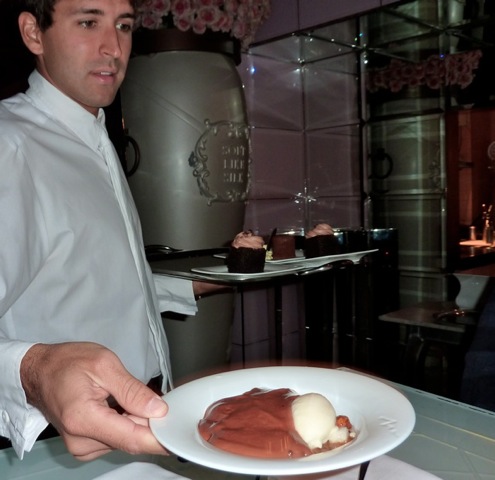 Dessert Service in La Patisserie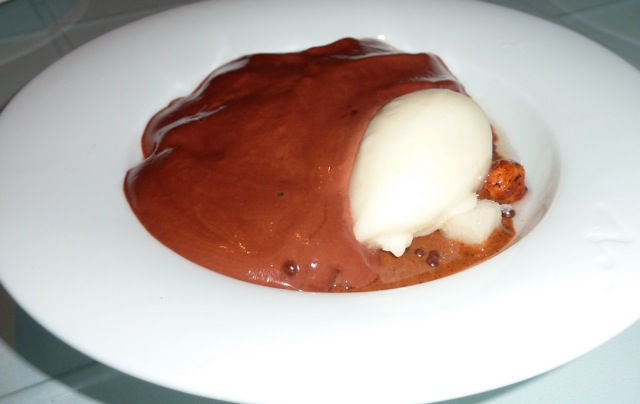 Hot Chocolate Mousse, Pear Sorbet, Hazelnut Praline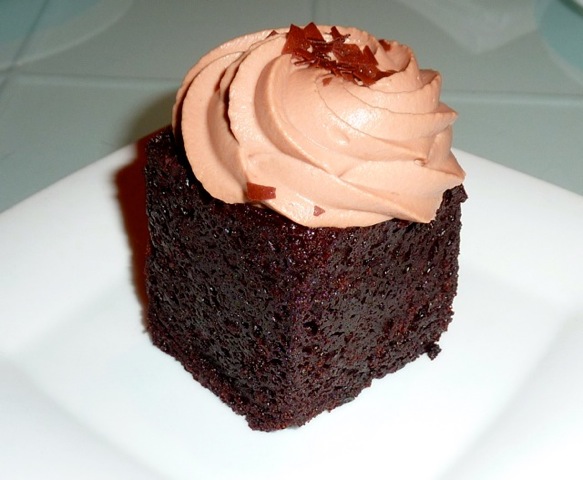 Chocolate Cake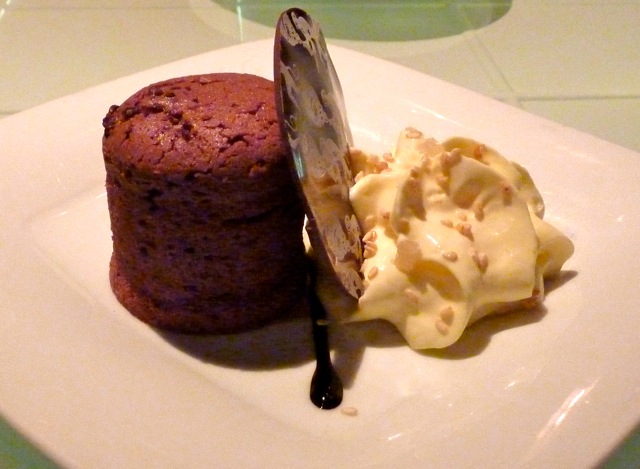 Creamy Chocolate Heart, Coffee and Cardamom
Nitro Coconut Floating Island, Passion Fruit and Vanilla
One of the dining areas
Outdoors in the balmy night air………Sign viewed in the distance while waiting for the valet to retrieve our car!