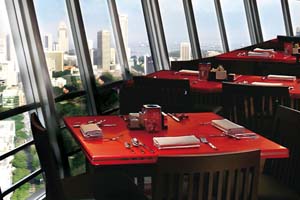 333 Orchard Road
Level 1, Mandarin Singapore Hotel
Singapore SG, 238867
Tel. +65 6831 6288; 6737 4411
web: http://www.mandarin-singapore.com/weddnrest_chatterbox.html
Opening Hours: 24 hours
Credit Cards: All Major
Prices: Inexpensive-Moderate
Singapore's most popular chicken rice has a new home! Relocated to the 38th/39th floor of the Grand Tower, Chatterbox has replaced the now defunct Revolving Restaurant. Having undergone a complete makeover, Chatterbox – Home of the Mandarin Chicken Rice has shed the Perenakan look and now infuses a vibrancy with a bold color mix of red, black and white. The dining experience at Chatterbox is re-energized although, they have been very careful to make sure that the tastes remain the same.
This at one time was one of the best places to find Hainanese chicken rice, a local favorite. In fact, the dish is the main reason to dine here. The chicken is firm; the rice fragrant while the ground chilli sauce with ginger provides the finishing touch. Other local favorites include the nasi lemak with its fragrant coconut milk rice and fresh sambal chilli, and laksa. There is also an adequate wine list.