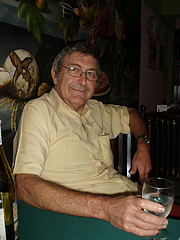 Above: Chef-Owner Daniel
255/18 Mahidol Rd., Ormmuang Super Highway
A Muang, Chiang Mai
Tel. 053 204800
Credit Cards: Master Card Only
Prices: Moderate
The small Normandy-style restaurant is quite appealing, looking in at it from outside, and is situated on a corner in a remote part of Chiang Mai. Once inside the ten-table dining room of Chez Daniel, at least at night, is eerily dismal with a murky fish tank and untended bric-a-brac lining the walls. Two of the owner's half-French half-Thai sons, acting as waiters in this family-owned business, plodded aimlessly around the dining room.
I never wish to write about negatives, especially about a restaurant whose owner was so obliging, but the dishes I sampled: escargots, jambon Normande, sanglier poivrade (from Laos) to be truthful, were not very good.  The owner-chef was at the time of my visit recovering from major surgery, and that being the case, I give him the benefit of the doubt regarding the cooking, and expect that the dishes will most likely be sorted out when his health improves.
The highlight of the evening was the Calvados Special, baht 250, which he hand-carried back from Normandy in a plastic tea bottle (pictured below).