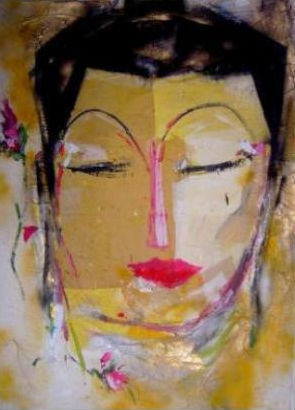 Exhibition at Le Beaulieu Restaurant April 1st to May 4th, 2010

About the exhibition « Soul of Thailand »
A photographer for many years, Jean-Michel Aucler now applies himself exclusively to painting.
His incurable passion and primary inspiration is Asia, particularly Thailand, His work displaying a balance between western and oriental traditions.
For his first exhibition in Bangkok, he created a series about Buddhas and the multiple ways to make offerings to the monks.
His canvases, with their large areas of colour, evoke through their powerful expressiveness, a certain primitive style. Whereas his lines on crumpled paper are by contrast, of a vibrant lightness, like a hesitation between the two worlds.
"Jean-Michel Aucler is in love with life. His work is the true reflection of a dreamer, who never stops conjuring tricks with painting, colours and shapes. He is a conjurer of the soul." Marie-Helene Grinfeder, art expert at Paris Drouot Auctions
About Jean-Michel Aucler: Jean-Michel Aucler lives and works in France.
He travels frequently to Asia, especially to Thailand and the island of Bali.
Main exhibitions :
1983. Gallery Lavrov. Paris. France
1984. London Contemporary Art Fair. London. Great Britain
1984. Gallery Wimmer. New York. USA
1986. Gallery Grinfeder. Paris. France
1987. Gallery Cupillard. Saint Tropez. France
1987. Gallery Cupillard. Grenoble. France
1988. Trade Street Gallery. Tryon. USA
1995/97. "des Voluptés" Book for the French Foreign Office. Paris France.
Gallery Down Town. Paris. France
French Consulate. Rio de Janeiro. Brazil
French Embassy. Brasilia. Brazil
French Embassy. Prague. Tchecoslovaquia
2000/07. Gallery Paul Maurin. Paris. France
2000/10. Gallery Sunbebek. Bali Island. Indonesia
2005. Gallery Peter's Friends. Paris. France
2008. Gallery Dragon. Paris. France
2008/9/10. Gallery Glineur. Ile de Ré. France
2010. Le Beaulieu. Bankok. Thailand
2010. Gallery Wimmer. New York. USA
2010. RVS Gallery. Southampton (Long Island). USA.
Private collections in Europe, USA, Asia, Australia, Morocco, Brazil
Contacts: http://www.jean-michelaucler.blogspot.com/
http://www.facebook.com/event.php?eid=361960481423
On display: April 1st – May 4th 2010 at LE BEAULIEU Restaurant
50 Sukhumvit soi 19 – North Klongtoey – 10110 Bangkok
Tel. 02 204 2004
Press contact :
Philippe
08 2336 0814
Philippe.Taurinya@TripleWorld.asia
Tags: Artist Jean Michel Aucler's new series of paintings of Thai Monks