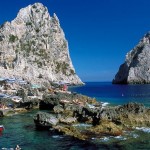 Tel. +39 081 8370845
Fax. +39 081 8374612
Location: Faraglioni
80073 Capri (Napoli)
fontelina@capri.it
Prices: Moderate – Expensive
La Fontelina is a special little cove with a restaurant set on a rocky promontory above the sea; you can swim by climbing down the short ladders from the rocks into the sea as there is no beach. Colorful, umbrella covered, tables overlook the Faraglioni rocks and it is one of the most exclusive restaurants on the sea, serving the best cooking at the waters edge, simply presented local seafood and pasta. I did not visit on my last trip (I have dined there countless times over the years) because of our small child, it is not suitable for children because of deep and possibly rough water. I have also checked with the locals to make sure nothing has changed, and it is also reassuring that it is still owned by the same family for over 50 years.
Boat service back to Marina Piccolo is available. It is a must to have lunch here and essential to book at the telephone number above.
Tags: beach, Capri, excellent cuisine, sea