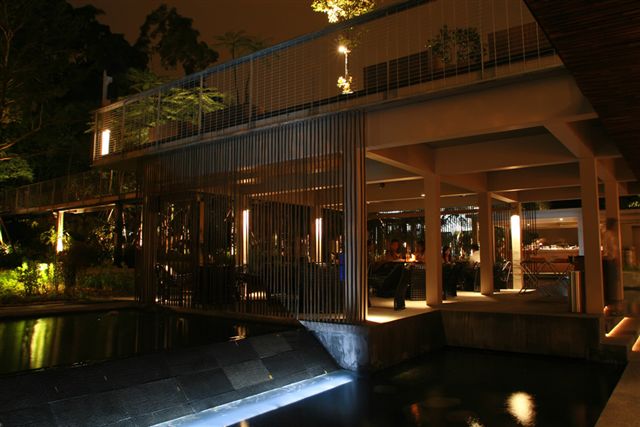 Oosh
22 Dempsey Road
Tel. 65 6475 0002
Email: info@oosh.com.sg
Website: www.oosh.com.sg
Credit Cards: All Major
Prices: Expensive
Oosh is located at the former British Army barracks district at Tanglin Village (Dempsey Hill) formerly known as Dempsey Road. The alfresco bar and restaurant has a long beautiful sushi bar, attractive and artfully-lit cabanas along with numerous aquatic special effects. You will find an extensive drinks menu listing most of the premium liquors available. Sensibly, there is a dress code: no slippers, singlets or cut-offs.
A lot of thought has gone into the architecture, design, and décor, it is really very well coordinated. The negatives are that the service is slow in spite of a service call button, and the prices are high for food that is only average at best, and drinks and wine are unfairly marked up. It is not necessary to dwell anymore on this establishment except to say; that it is a romantic place to visit but the bullet stops there—nothing else will impress!