135, Rue St Dominique
75007 Paris, France
Tel. +33 1 45 55 15 05
www.leviolondingres.com
Opening Hours: Tues-Sat noon-2:30pm and 7-10:30pm
Credit Cards: All Major
Prices: Expensive
Christian Constant learned his craft from his mother in the south-west region of France. He began his apprenticeship in a local restaurant when he was 14.
Later he worked at the prestigious Ledoyen Restaurant in Paris. Seven years later, having worked every station, his aunt welcomed him to her one-star Michelin bistro "Chez Les Anges."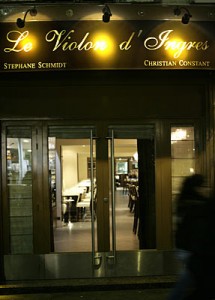 After working at The Ritz, Paris, Constant became Executive Chef at The Hotel Crillon's luxurious 2- star Michelin restaurant, Les Ambassadeurs, now undergoing a full restoration to be completed at summers' end. It is hard to see how the new owners, of the hotel, the Starwood Capital Group, can improve on the magnificent dining room, which was the former ballroom of the duc de Crillon's palatial home and under the watchful eye of chef Jean-François Piège. (Hotel de Crillion, 10 Place de Concorde, Paris. Tel. 0033 144 711 540 www.crillion.com;).
During eight years tenure Constant created a new generation of talented young chefs, proud to have worked under him.
Constant decided that although he loved The Crillon it was time to realize every chef's dream; to open a restaurant of his own. In 1998 his dream came true and the 60 seat Violon d'Ingres opened its doors. The name, pays homage to Jean-August-Dominique Ingres (1780-1867), the French painter born in Constant's home-town of Montauban.
All of this might not have become a reality if he had not met his wife Catherine, a Scot, who was Assistant Crew Chief Steward at the time that he was giving cookery classes on the QE2. She is now helping the Maitre d'hotel at the Violon d'Ingres' by taking bookings, hiring staff and dealing with all the administration work. They also own Les Cocottes and Café Constant.