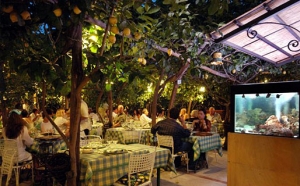 Tel. +39 081 8376102
Fax. +39 081 8375611
Via Palazzo a Mare, 11
80073 Capri (NA)
paolino@capri.it
Prices: Moderate
One evening while I was dining at Da Gemma one of Capri's renowned residents was making his way through the tables stopping to chat with almost everyone. Prince Francesco Caravita di Sirignano, whom I had known over many years, passed by my table and said to me, "Join us tomorrow in the piazza and we will go for lunch on my boat, but do not expect a yacht, my boat is piccolo—a barca." Dress accordingly and we will go to the Marina Grande first and my girlfriend Christina will buy the food." "Do any of you drink wine?" he questioned. "I have given it up at my age, I am 78. Christina doesn't drink wine but we will certainly have some Capri bianco for you." he exclaimed.  "Wine costs nothing, less than water in Italy!  Isn't it wonderful?" Descending on the funiculare from the piazza to the Marina Grande the little harbor grew bigger and bigger as we approached. The boatman had taken off the canvas cover and had made ready.  As we pulled away from the dock and crossed the harbor, dodging ferries loaded with gawking tourists,  Prince di Sirignano pointed to a sheared off part of the rocky cliff above and said, "All that part fell two years ago and buried a man fishing underneath." We continued around the island past the white grotto, with a stop there for a swim, then through the Faraglioni, two towering volcanic rocks off the coast, one with a large tunnel carved by the waves through the center.  "We usually anchor in the tunnel as it is cooler to have lunch.  However, the traffic on the weekends makes it too rough to do so," he explained, as he brought the little boat through the passage and into a stiff afternoon breeze.  We will go to the Marina Piccolo near the Grotto Verde and have lunch there". Everyone was given a bowl with olive oil and crushed basil and oregano in it. Plates of sliced tomatoes, bread and fresh mozzarella to dip into the olive oil and finishing with fresh fruit. The conversation soon turned to restaurants and I asked them, which of the current ones they preferred this season. They mentioned a few and then exclaimed, "although, a must is Paolino. Feeling like the pack mules that used to bring tourists up the mountain years before, we climbed the steep, narrow cobble-stone pathway, at the hottest time of day, toward Monte Tiberio, where the Emperor used to throw virgins off the high cliff into the sea. I was out of breath when we reached a stone wall surrounding Da Paolino restaurant, I walked up the stairs that led to a large patio, with a arbor covered with grape vines and interspersed with lemon trees with grapefruit-sized fruit. In due time, enough to finish an entire liter of Fiuggi water, Paolo and his wife greeted me and I was seated at a table under the lemon trees. A bottle of mineral water and unlabeled wine were placed on the table along with a basket of bread. There was no menu. Paulino approached the table and announced in a big voice, "We have the best potatoes you will ever taste and they are grown right here and after . . . the next course, rabbit, we raise the rabbits over there and of course, white wine we make our own from the vineyards on the side of the hill". Do not ask me for anything else that is all I have today! The wine tasted similar to the white wine I had drunk twenty years earlier in Capri, before they had so-called sophisticated vinification methods, a wine unfiltered and unfined, slightly cloudy and infiltrated with sediment. A wine, which was genuine, straightforward and earthy with no chemicals used to balance it. It was really a pleasure to drink. Fried potatoes came out of the kitchen scalding hot along with a large bottle of emerald green, olive oil from the trees on the property.  Drizzled with oil they were simply the best potatoes I had ever tasted. The rabbit was extraordinarily good and we finished with a glass of homemade lemon liqueur (limoncello), made from the giant lemons on their trees, a tart finish to what was—a most pleasurable lunch.