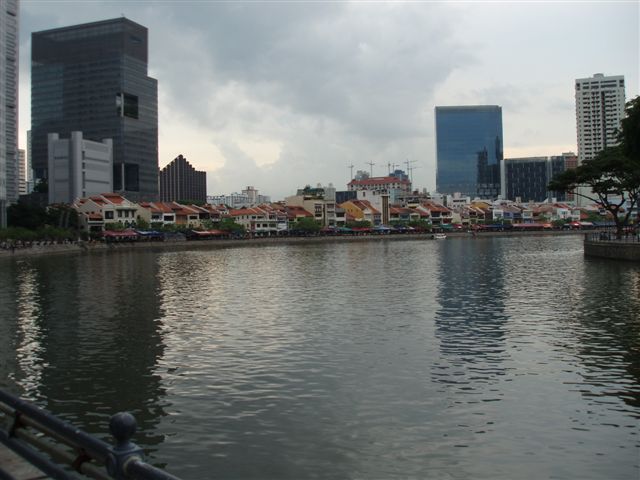 After recently spending about ten days in Singapore I found that Singapore has changed a great deal in the span of almost twenty years since I lived there. I return every few years, although this time things were greatly different. For example: a simple lunch for two in an Italian trattoria cost S$235 ($170 U.S.), a modest glass of white wine in a hotel restaurant bar cost S$34 ($25 U.S.) and that was by no means the end of it, as I dined around the city-state I found outrageous prices across the board for wines and food as I booked into the more expensive restaurants. I currently reside in Bangkok, and even with the absurd taxes that are levied on wines there, the wine prices were similar in most Singapore restaurants. Only, after my friend suggested buying wine at Carrefour, did I find some decent pricing. Although, I must add that I picked up a few bottles of Cloudy Bay Sauvignon Blanc for considerably less than Bangkok, even in the highly priced, Isetan basement market.
After completing my tour, I came to the conclusion that Singapore's dining prices have exploded, although cuisine and service did not necessarily follow suit. I began to feel that Tokyo, which in the past had always been more expensive, offered restaurants in each category from inexpensive to very expensive that represented better value for money than Singapore.
SINGAPORE BARS
Singapore has much more to offer in the way of nightlife than it's often given credit for. The island's burgeoning bar and pub scene means there is now a wide range of drinking holes to choose from, with the Colonial District, Boat Quay and Orchard Road areas offering particularly good pub crawl potential…
Orchard Road
Anywhere, 04-08/09 Tanglin Shopping Centre, 19 Tanglin Rd. Tania,
A band plays nightly to a rollicking roomful of expats that is at its most exuberant on weekend nights. Happy Hour Mon-Fri 6-8pm; open Mon-Sat 6pm-2am.
Brannigan's, Hyatt Regency Hotel, 10-12 Scotts Rd. Popular expat haunt where the cocktails are expensive and especially the wines by the glass, at least outside the Happy Hour (5-8pm), but house bands are usually good. Daily 5pm-1am.
Excalibur Pub, B1-06 Tanglin Shopping Centre, 19 Tanglin Rd. Cluttered and cramped pub crowded with expats. Daily 11am-10.30pm.
Fabrice's World Music Bar, Basement, Dynasty Hotel, 320 Orchard Rd.
This music bar has been around a long time playing hip music and the walls decorated with things collected from around the world. Cover charges apply after 10pm and the drinks are outlandishly expensive. Happy Hour 5-8pm; open 5pm-3am.
The Ginivy, 02-11 Rear Block, Orchard Towers, 1 Claymore Drive.
A Country & Western bar with a decent house band where tattooed American oil-riggers attempt to dance with Indonesian and Thai prostitutes, who these days are likely to have more tattoos than the men, to the twangs of country music. They are odd couples indeed, awkwardly trying to keep time to the rhythm;  sitting at the bar and watching it can be hilariously amusing. Daily 8pm-3am.
Hard Rock Cafe, 02-01 HPL House, 50 Cuscaden Rd. Pricey drinks and a cover charge after 10.30pm make this globally known bar/restaurant an expensive experience. Happy Hour Mon-Fri 4-7pm; open daily 11am-2am.
Observation Lounge, 38th floor, Mandarin Hotel, 333 Orchard Rd. A hotel cocktail bar offering extensive views over downtown Singapore. Open 11am-1am except Fri & Sat 11am-2am.
Saxophone, 23 Cuppage Rd. This has been a trendy place to be seen since its opening years ago. Relax on the terrace to the sounds of the house jazz band. Acceptable French food is served, albeit expensive as are the drinks, so try to go during Happy Hour, which is from 6-8pm. Open Daily 6pm-2am.
Shirley's Place, 02-01 Far East Shopping Centre, 545 Orchard Rd. A current favorite among Singapore's heavy-imbibing expats and always lively and fun.
Why? Pub, 04-06 Far East Plaza, 14 Scotts Rd. Reasonably priced drinks are the thing here in this minuscule pub. Daily 2pm-midnight.
Boat Quay and Clarke Quay
Buzz, 88 Circular Rd. A youngish local and expat crowd frequent this place especially on the weekends.

Escobar, 37 Boat Quay. Latino music.
Crazy Elephant, 01-07 Trader's Market, Clarke Quay. Considered one of the best bars along Clarke Quay, playing decent rock music plus live sessions by the house band; old tea chest panels and best tables are on the water. Mon-Thurs & Sun 5pm-1am, Fri & Sat till 2am.
Emoh Cafe, 9-9a Circular Rd. Place to hang-out with internet access ($7 an hour). Open 24hr.
Harry's Quayside, 28 Boat Quay. There's live jazz Wednesday to Saturday in this upmarket place, and a blues on every Sunday evening. Light lunches are served. Daily 1pm-1am.
Molly Malone's, 42 Circular Rd. With Kilkenny and Guinness on tap, and a menu offering Connemara oysters and Irish stew.
Colonial District
Bar and Billiards Room, Raffles Hotel, 1 Beach Rd.
A Singapore Sling ($17), in the colonial elegance of the hotel where it was created in 1915. A must visit if you are new to Singapore. Light dish selections through the afternoon, and playing billiards costs another $15 an hour. Daily 11.30am-midnight.

Bonne Sante, 01-13 Chijmes, 30 Victoria St. A proper wine bar in Chijmes' Tuscan courtyard.
Compass Rose Bar, seventieth floor, Westin Stamford Hotel, 2 Stamford Rd. An expansive bar with great views through the huge windows. Happy Hour 5.30-8.30pm; minimum charge $15 after 8.30pm. Daily 11am-12.30am.
Harry Keery's, 01-20 Capitol Building, 11 Stamford Rd. Japanese food and imported beers available. Happy Hour 11.30am-8.30pm; open 11am-midnight.
Paulaner Brauhaus, 01-01 Millenia Walk, 9 Raffles Blvd. German brauhaus serving wurst and sauerkraut; in the bar the accent is on beer.
Somerset's Bar, Level Three, Westin Plaza Hotel, 2 Stamford Rd.
Live jazz. Happy Hour Mon-Fri 5-8.30pm; open 5pm-2am.

River Valley Road
Wong San's, 12 Jalan Mohamed Sultan. A tasteful pub in a Peranakan-style building. Daily 3pm-1am. stylish
The Yard, 294 River Valley Rd.
Busy English pub with bar snacks available with a 3-8pm Happy Hour. Daily 3pm-midnight.
Tanjong Pagar

Cable Car Saloon, 2 Duxton Hill. Specialty cocktails combined with light jazz. Peruse the extensive list of hundreds of whiskeys. Mon-Sat 5pm-midnight, Sun 3pm-midnight.
Duxton's Chicago Bar, 6-9 Duxton Hill. Good live jazz and blues, Happy Hour (noon-8.30pm) prices last all day Sunday. Daily noon-1am.
Flag and Whistle Public House,10 Duxton Hill. British pub, complete with Bass beer, bar snacks and a large Union Jack. Daily 11am-midnight.
There are so many other bars, nightclubs and discos, and mostly forgettable Chinese nightspots with female vocalists singing off-key accompanied by tone-deaf musicians, this small selection is just scratching the surface of Singapore nightlife.