This evening is for and about Mr. Riccardo Tedeschi and his wonderful wines from Verona and was given at Becccofino Restaurant, Bangkok.
Riccardo Tedeschi, the winemaker from Tedeschi winery in Vernona, email:wines@tedeschiwines.com, website: www.tedeschiwines.com, who produces supple examples of Valpolicella Classico and Amarone, hosted a Wine Maker Dinner along with G Four International email:tamara@gfour.co.th at Beccofino Restaurant website: www.beccofino.co.th, email: info@beccofino.co.th, on Soi Thonglor, on Saturday night, July 26th 2008. The menu and wines follow:
Warm salad with tiger prawns, avocado and semi dried cherry tomatoes
Insalata tiepida di gamberi e avocado con pomodorini Pachino semi secchi
Bianco di Custoza 2007
**************
Herb crusted fillet of Japanese tuna with zucchini, fresh tomato, onion and basil
Filetto di tonno in crosta di erbe con zucchine, cipolla e pomodoro fresco al basilico
Valpolicella Classico Superiore 2006
**************
Buckwheat tagliolini with porcini mushrooms and shaved Parmesan cheese
Tagliolini biologici al farro con funghi porcini e scaglie di Parmigiano
Valpolicella Superiore Ripasso Capitel San Rocco 2005
La Fabriseria Valpolicella Classico Superiore 2006
**************
Braised wagyu beef in red wine served with steamed seasonal vegetables
Stufato di manzo Austaliano servito con verdure di stagione al vapore
Amarone della Valpolicella Classico 2004
Amarone della Valpolicella Capitel Monte Olmi 2004
**************
Chocolate tower with mascarpone and coffee mousse, caramelized dry fruit
Torretta di cioccolato con crema al mascarpone
e caffè, frutta secca caramellata
Grappa di Amarone
**************
Lavazza Coffee or tea
Chocolate truffles
Caffè Lavazza o tè e cioccolatini
Baht 2,500 ++ per person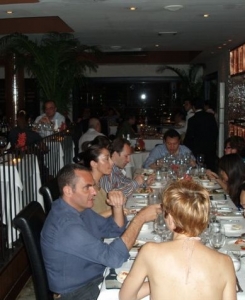 LIFETIME – January 2001
"… During a September visit, I was impressed with the outstanding quality from
producers focused on every aspect of winemaking…Tedeschi is another family-owned
winery with single-vineyard and traditional Valpolicella and Amarone. One of the
daughters completed a study that showed the benefits of the semi-dried grapes used in
making Amarone for lowering cholesterol"
WINE MAGAZINE – ENJOYING MEDITERRANEAN REDS – May,2003
VALPOLICELLA DEI NICALO 1999 TEDESCHI
Made by the young winemaker Riccardo Tedeschi, with the help of father Renzo,…This has a classic mature Valpolicella nose. Slightly farmyardy in style, it manages to be complex and intriguing without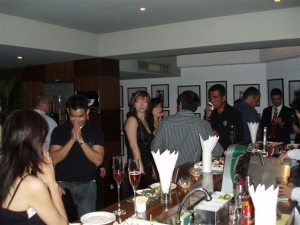 ever being heavy.
Tags: Tedeschi Wines Valpolicella and Amarone, The Bar at Beccofino Bangkok, Wine Maker Dinner Beccofino Italian Restaurant Bangkok