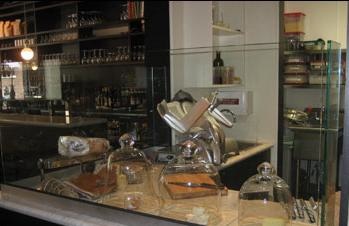 Bar Bambino, San Francisco
Italian Wine Bar
2931 16th St. San Francisco 94103
(Between Mission St. & S. Van Ness Ave)
Tel. (415) 701-8466
Website: www.barbambino.com
Opening Hours:
Lunch: Tue-Sat: 11am-5pm; Dinner: Tue-Thu: 5pm-11pm Fri-Sat: 5pm-12am; Sun: 4pm-10pm
Credit Cards: All Major
Prices: Moderate
You will initially go to this small Italian Wine Bar named Bar Bambino for two reasons: a selection of 40 Italian wines by the glass and the rustic Italian-inspired cooking, that is consistently delivered by Chef Elizabeth Binder who heads up culinary endeavors, be sure to give a try to this kitchen's version of a soupy rabbit ragu (really more like a stew) with papparadelle ($13.75).  The wine bar is owned by Christopher Losa, who is immensely environmentally aware and has a genuine interest in keeping the place directed towards organic products. Other reasons to visit that may not immediately be apparent, although situated in a run-down block of San Francisco's Mission District it is a cozy space where people clamor to grab one of the metallic covered tables or a seat at the good-sized bar, in addition, it also boasts a heated-patio, and a salumeria that they squeezed into the already crowded space. Bar Bambino has evolved to become one of the top wine bars in the city.
Tags: 40 wines by the glass, Bar Bambino Mission District San Francisco, Italian-inspired dishes, Popular Wine Bar San Francisco