By Sandy Driscoll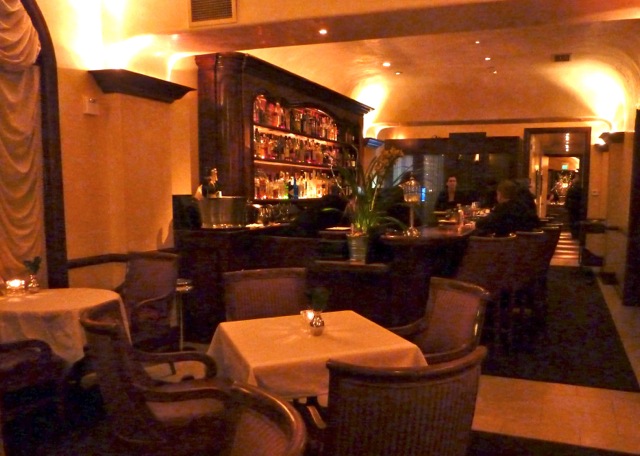 The Bar at Cyrus
Cyrus Restaurant
29 North Street
Healdsburg, CA  95448
Phone:  707.433.3311
Website:  http://www.cyrusrestaurant.com/
Hours:    Thursday thru Monday, 5:30-9:30 pm
As one of only a few restaurants in the USA which has been given two Michelin stars, Cyrus is the quintessential
special occasion restaurant destination in the beautiful California Sonoma wine country.
With too many accolades to list here, Cyrus offers a choice of a five or eight course tasting menu.  Although one
can order a la carte in the bar area, the tasting menu is the way to go for a splendid dining experience.  Formal and
beautifully orchestrated service and food come together to make for a memorable evening.
Our party of four was celebrating a birthday, and the chef and servers produced three lovely surprise and unique
birthday desserts with a flair that had all of us smiling.  Scattered among our eight courses were several little
'gifts' and amuses…….delicious tastes that appeared just at the right time.   This is a dining experience that takes
an entire evening, is fun, beautiful and memorable.   Each of us was also given a printed menu….. a memento of
all the courses we had, 18 in all!
A tour of the kitchen at the end of the evening gave us a behind-the-scenes view that made the evening complete.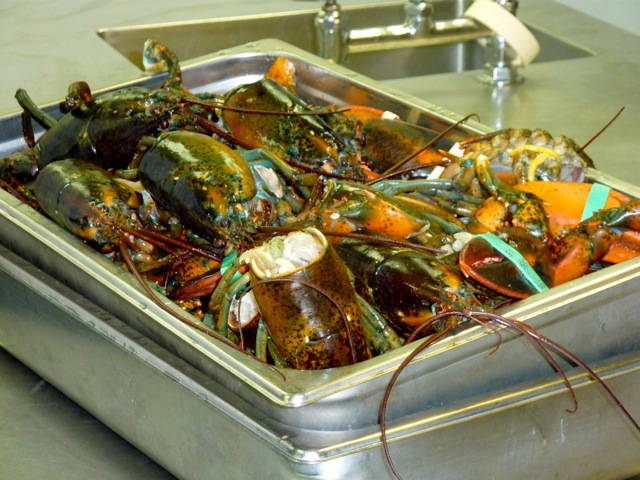 Lobsters in the prep kitchen (a separate building) All images copyright 2012 by Sandy Driscoll & Restaurant Dining Critiques.com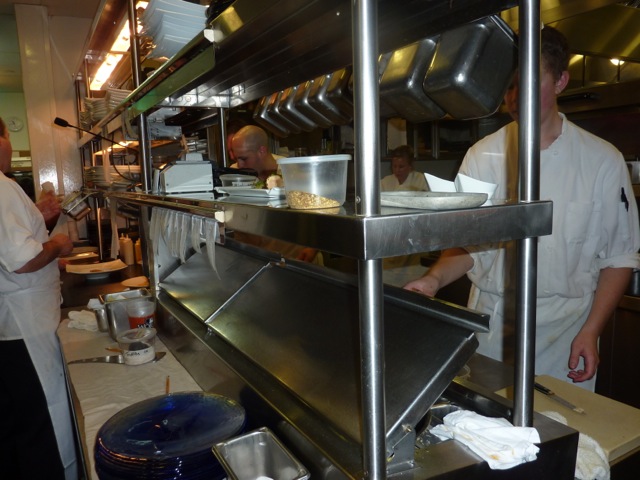 The very busy well organized kitchen
In the kitchen with Chef Douglas Keane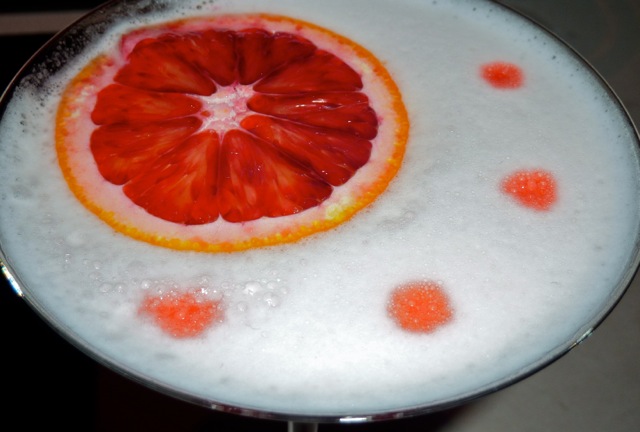 Pelo Del Perro Cocktail – Charbay Blood Orange Vodka, Chinaco Blanco Tequila, Agave Nectar,Grapefruit  Foam, Sea Salt,
Grapefruit & Lime Juices, Vitamin B 12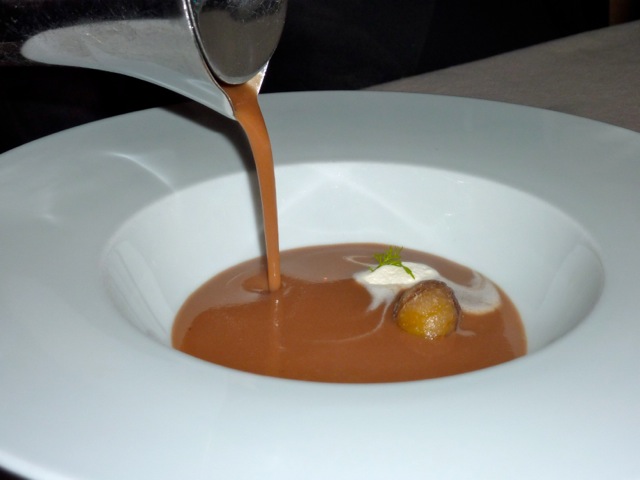 Chestnut and Sherry Soup with Chestnut Confit, Fennel Cream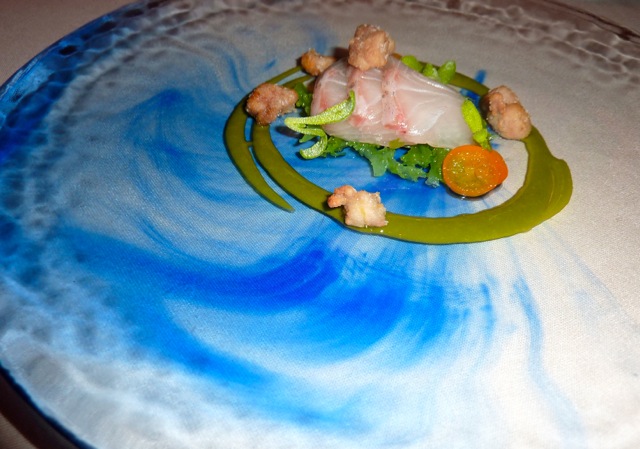 Kampachi Sashimi with Ice Plant, Kumquats and Sweetbreads, Matcha Vinaigrette
Roasted Lobster with Cauliflower Cream, Uni Emulsion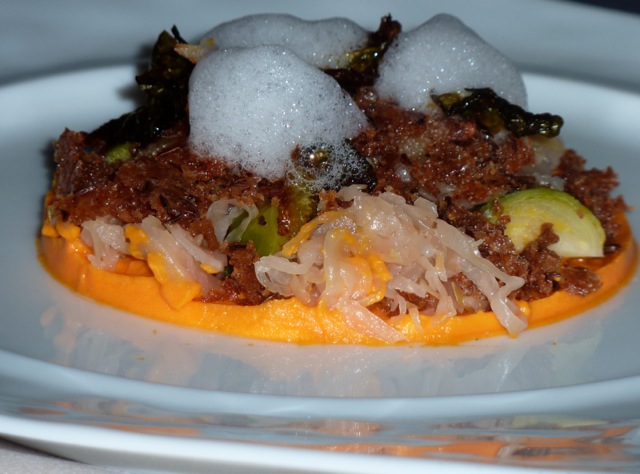 Carrots, Brussels Sprouts and Cabbage with Pumpernickel and Horseradish
Foie Gras Torchon with Blood Orange and Pistachio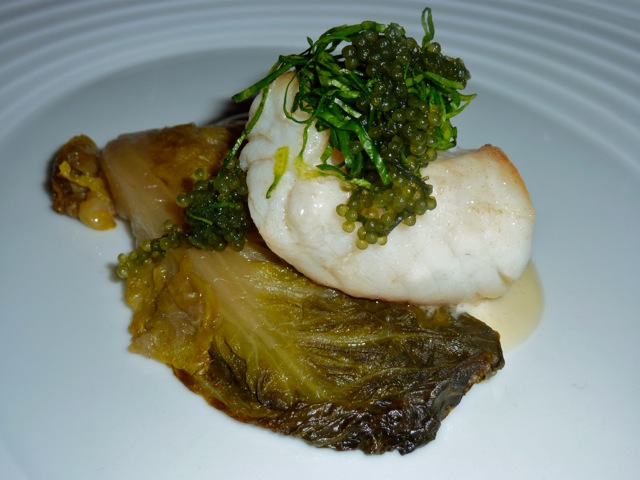 John Dory with Braised Romaine, Yuzu Kosho Butter
"Nakamura Miso" Glazed Tofu with Parsnips and Pickled Goji Berries
42 Hour Short Rib with Potato, Mustard Greens and Crimini, Sauce Bordelaise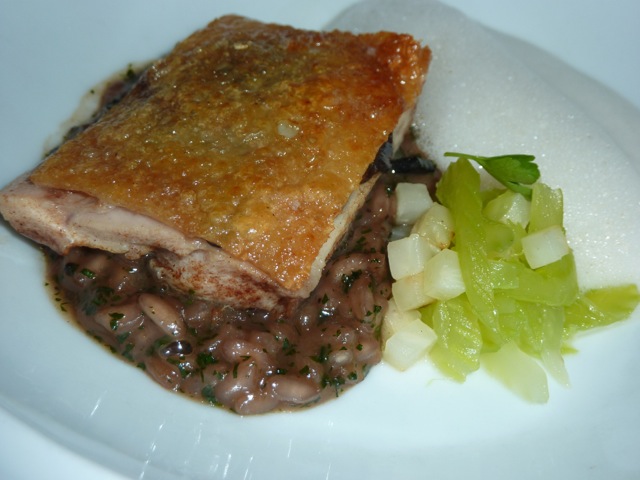 Crispy Chicken Thigh with Truffled Risotto and Celery, Parmesan Froth with Shaved Black Truffles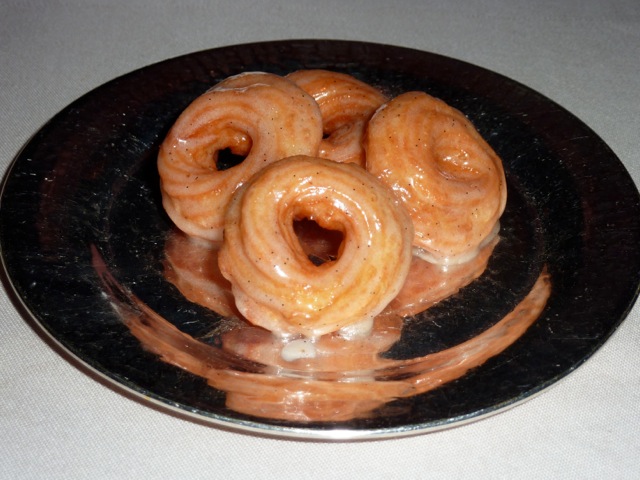 Hot Farina Fritters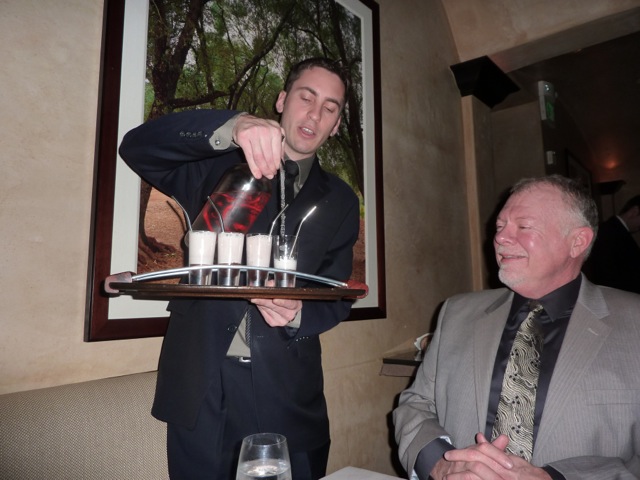 BIrthday guest Rod watches as the waiter prepares a very special dessert!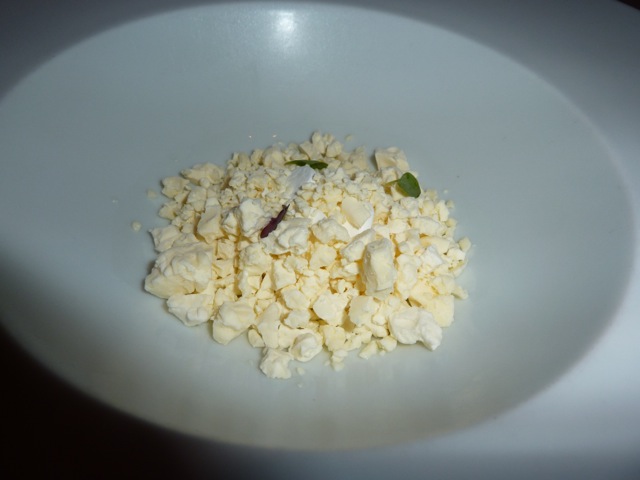 Yuzu Cremeux, Bergamot Meringue and Cream Cheese Ice Cream  (One of the most memorable tastes I've ever had!)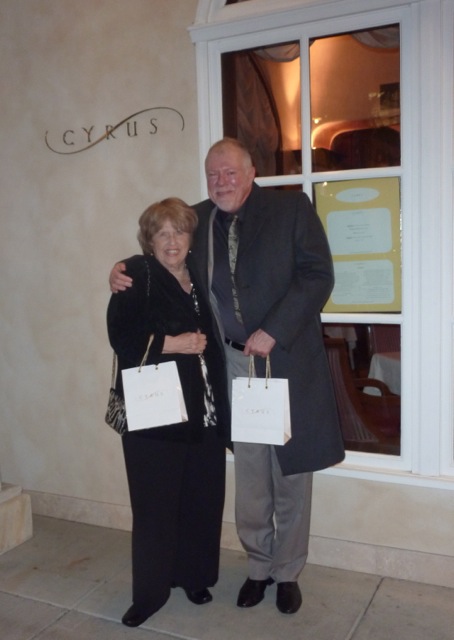 Dinner guests Karen and Rod with their Cyrus gift bags containing Mignardises
for the following day!