Rossini Restaurant
Sheraton Grande Sukhumvit Hotel
250 Sukhumvit Road
Tel. (66) 02 649 8888
Email: grande.sukhumvit@luxurycollection.com
Website: www.sheratongrandesukhumvit.com
Credit Cards: All Major
Prices: Moderate-Expensive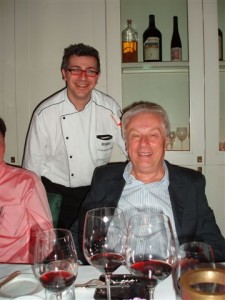 I was invited to attend a small dinner party at Rossini Restaurant in the Sheraton Sukhumvit Grande Hotel to taste the wines of Gianni Gagliardo, a celebrated wine maker from Piedmonte. Bravissimo!
Gianni, who is a delightful man who loves to travel, first explained, how his sons are taking care of the vineyards—and it definitely remains a family business. The production is about 350,000 bottles per annum.
The dinner began with a first course of, and for lack of another term; a Sicilian seafood couscous served in a mason jar (very interesting with intense flavors). To go along with this dish, a lovely and slightly frizzante wine called Fallegro, Vino de Tavola Bianco 2007 was served, made from 100% Favorita grapes—young, fresh and delicious. This course was followed by a well-made, attractively presented and ultimately edible dish of raviolis filled with vegetables and fish, to purposely show how it would pair with the accompanying red wine, Batie Langhe Nebbiolo made from a blend of mostly Nebbiolo with a small percentage of Barbera before it was matured in barrels, 2005. The pairing worked extremely well!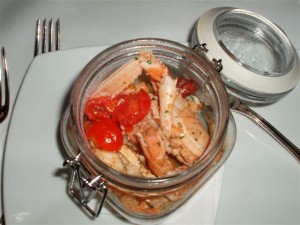 The following three Barolo wines in various styles and nuances accompanied what appeared to be a braised beef cheek, (an advance menu was sent to me by the distributor, however Mr. Gagliardo changed the menu at the bar with the chef just before the dinner, and what turned up at the table was not even vaguely similar to the original menu I received). This was all for the better, as the chef and the wine maker worked out the menu to best fit with the wines presented, to the advantage of both sides.
The Barolo's presented were:
Barole Preve: a combination of Barolos with contrasting characteristics; one an elegant wine with great finesse and the other with structure and body 2001.
Barolo Serre: a wine with greater concentration and a fuller body 2004.
Barolo Reserva: aged for ten years and now beginning to show its full potential 1997 (one of the best years in Piedmonte).
The finale was a dessert served in a glass containing granita on the bottom and spooned on top was a layer of chocolate mousse. A low alcohol 4.5% lightly sparkling, Moscato was served along with this dessert and the flavor of this juice, loosely called wine, was so intense that I though I was eating freshly picked Moscato grapes straight from the vine!