By Sandy Driscoll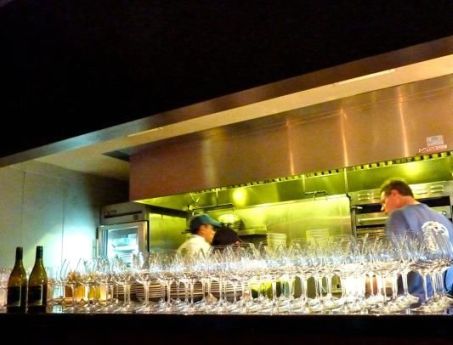 Chef Dickman prepares for the Wine Dinner. All images © 2010-2011 restaurantdiningcritiques.com and Sandy Driscoll
****
Barbrix Wine Bar and Restaurant
2442 Hyperion Avenue @ Tracy
Los Angeles, CA  90027    (Silver Lake area)
Phone:  323-662-2442
Open:  Sunday – Thursday   6pm – 11pm
Friday – Saturday      6pm – 12am
Credit Cards:  Yes
Valet Parking:  Available
Prices:  Reasonable
****
Opening in May 2009, Barbrix was an instant hit with the hip, trendy, bohemian Silver Lake neighborhood of Los Angeles.  Just a few months later, they were named one of LA's Top 10 New Restaurants by Los Angeles magazine.
Located across from Baller Hardware in a tastefully renovated former 1940's residence, there is an outdoor patio area, a 360 degree wine bar, and a 40 seat dining room with counter seats available (my personal favorite!) at the open kitchen.   Chef Don Dickman has created a Mediterranean-influenced menu, studded with straightforward flavors that reflect the wide ranging bounty of fabulous fruits and vegetables always available from the many farmers markets in the area.
Most of the menu items (first courses, cheeses, charcuterie, vegetables & grains, fish & meat) are small plates, perfect for sharing.  Prices are reasonable.  Nothing is over $17 and most are $5-10.
Want a glass or two of interesting wine?  Most are under $10.
I was very excited to attend their third  Wine Dinner last evening, featuring the wines of Stolpman Vineyards.  
http://www.stolpmanvineyards.com/
Winemaker, informative and congenial Pete Stolpman, was on hand to introduce and chat about his wines, which were beautifully paired with each course.  Appetizers, four generous courses and five wines were offered for a total of $70, inclusive of tax and gratuity.  Each course utilized the freshest ingredients, all were delicious and beautifully plated and presented.  Portions were very generous (some at my table took home leftovers) and the restaurant was full of very happy and convivial diners.
The evening epitomized fine and fun dining at its best.  I sure hope they continue to make this a regular tradition!  In a city full of fabulous restaurants, showcasing every imaginable cuisine, this has got to be one of  LA's best bargains!
Smoked Salmon Mascarpone Mousse Crostini & Porcini Mushroom Arancini Sauvignon Blanc "Estate" 2009
Polenta Biscuit with Maine Lobster & Brentwood Corn Gravy
L'Avion 2007  (Roussanne-Viognier)
Pappardelle with Spicy Tomato Sauce & Crispy Pork Belly
Sangiovese "Estate" 2006
Syrah Braised Lamb Shoulder with Black Mission Fig Compote & Pommes Sardelaise
Syrah Estate 2007
Service ready for the Cheese Course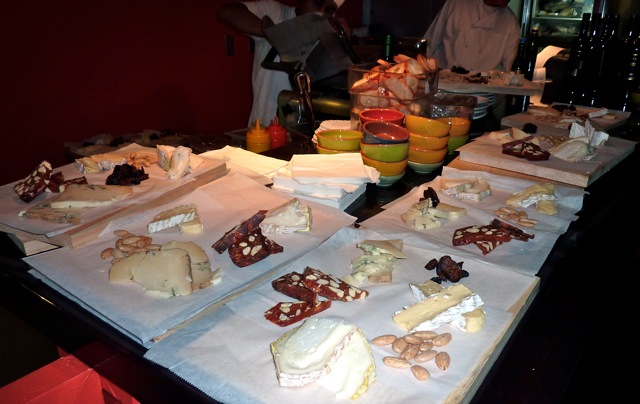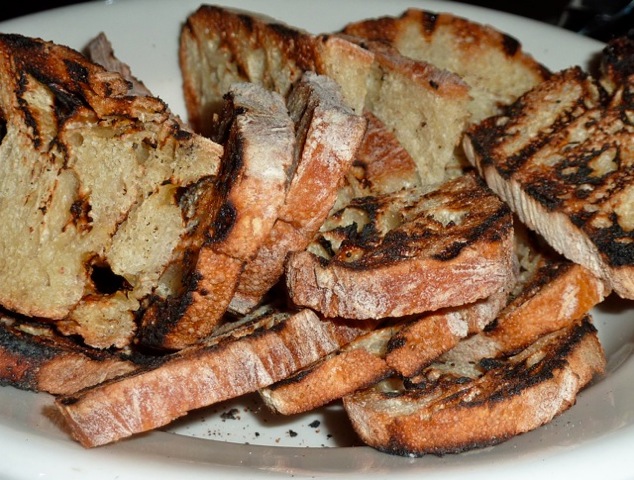 Grilled bread

The Cheese finale –  Toma Blue (Cow's Milk, Italy) – Ticklemore (Goat's Milk, England) –
Brie de Meaux (Cow's Milk, France)  with Quince, Figs & Almonds
Syrah Originals "Estate" 2008