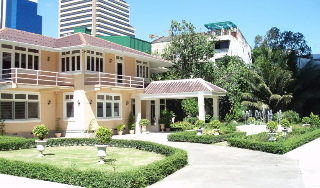 1217/2 Sukhumvit Rd.
Klonton Nua, Wattana
Bangkok 10110
Tel. 02-714-2112
Opening Hours: Breakfast, Lunch, Tea Time, Dinner
Owner/Director: Xavier Pierre Olaf Roger Bruzand-Grille
Website: www.bonjourbangkok.com
Private Parking, Private Dining Room
Credit Cards: all major
Prices: Expensive
Bonjour is a new French restaurant situated in a large house just off Sukhumvit Road between Ekkamai and Thonglor, and to narrow it down even further, between soi 59 and 61, it is easy to find and has an abundance of on-site parking.
I had mixed feelings about the experience; I was both excited, to dine at a new French restaurant in Bangkok, and underwhelmed by the two dishes I sampled.
I ordered two courses from the lunch menu. Crab and crevette soup was delivered by a young waitress, and in her hands the low-slung soup bowl reacted like a swimming pool in an earthquake, lapping alternately up and over the brim on both ledges on its journey to the table. The thin soup was separating from the cream, probably due to the vigorous movement, and globules of red-tinged fat from the shrimp floated onto the surface. The next course, a white fish from the bass family, sautéed with the skin, was fine, although not unlike hundreds I have eaten and nothing on the plate or treatment of this delicate fish helped to distinguish it as "memorable".
The promised swans (see Bonjour's website) were non-existent, however, they may arrive soon as the building and grounds were obviously not complete as workmen were still in evidence on the premises.
It is always difficult in the opening weeks of any new restaurant and my visit was most likely too premature as this restaurant had been open only a little over a month. I will let some time pass and return again to take another look, at which time everything will probably be fine-tuned and running smoothly.