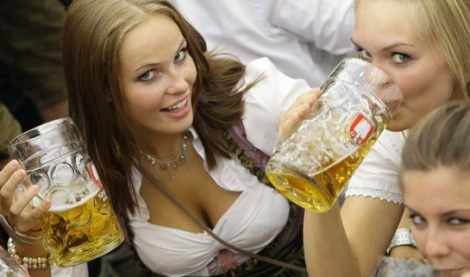 Oktoberfest is a world renowned event which takes place every year between the end of September and the beginning of October in Munchen (Munich), Germany. Almost everyone, lets their hair down and eats sausages and drinks a great deal of beer and has as much fun as they can, until they get too drunk to stand. Most of the male drinkers visit the huge bathrooms that have vomit stations, which look like large stand up urinals with two stout handles, one on each side, made especially to vomit beer; and then in they go back into the beer hall and start over again.  Crude but effective.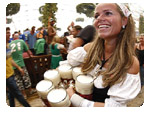 Popular Beer Brands:
Augustiner: Augustiner-Festhalle, Fischer-Vroni
Paulaner: Armbrustschützenzelt, Winzerer Fähndl, Käfer's Wies'n Schänke
Spaten-Franziskaner: Hippodrom, Schottenhammel, Ochsenbraterei / Spatenbräu-Festhalle
Löwenbräu: Schützen-Festzelt, Löwenbräu-Festhalle
Hacker-Pschorr: Hacker-Festzelt, Bräurosl
Hofbräu: Hofbräu Festzelt
The Wildstuben
The Wildstuben offers typically Bavarian food, including venison dishes and other "Schmankerln". It  is very famous for its first-class Oktoberfest food with typical Bavarian spices and vegetables. It is worth having a try and usually people love the spicy taste. The "Wildstuben" offers a bit mor than the usual "Kraut" and "Hendl": Bavarian specialties, including salad and snacks, but also roast wild boar and other venison dishes are offered.
The tent offers 200 seats and the quaint interior is divided into small seating niches. On the second floor you can experience a stunning view over the Oktoberfest.
"Gemutlichkeit" is tantamount and the music in this small tent supports that. Live music every day and reasonable prices make this tent a fitting choice.
Sieber Wurstbraterei
Traditional and tasty.
The history of the Sieber's Sausages goes back to 1876 and since 1929, they have a tent at the Oktoberfest.
Tradition and quality are two things Sieber's is proud of and which are honoured since Andreas Sieber first opened a stand at the Oktoberfest. As the name says, Sieber's is the place to go for sausage-lovers as it offers a great variety of those.
Weisswurst
Sieber's also offers one of the most traditional Bavarian meals: A Weisswurst-breakfast. As it is an unwritten law in Bavaria that the Weisswurst (veal sausage) must not be eaten after noon, the Weisswurst-breakfast is only available from 10 a.m. until noon. Between noon and 4 p.m. roast pork and other daily changing dish are sold for a reduced price.
All Tents
Large Tents
Hippodrom – One of the larger tents, it's the first tent that many visitors see at the fest. As well as serving normal Wiesn beer, it has a Sekt (sparkling wine) bar and Maß of Weißbier. Considered one of the trendiest tents, and attracts the occasional celebrity. Traditionally in the evening the Oktoberfest band the Münchner Zwietracht plays all the Oktoberfest classics.
Armbrustschützenzelt – Translates as the "Crossbow Shooters Tent", a competition that has been a part of the Oktoberfest since 1895.
Hofbräu-Festzelt – The counterpart to the famous Hofbräuhaus, this tent is especially popular with Americans, Australians and New Zealanders.
Hacker-Festzelt – One of the largest tents on the Wiesn, they have a rock band that plays from 5:30 each evening (as opposed to the traditional brass band). This tent is also known as "Himmel der Bayern" (Heaven of the Bavarians).
Schottenhamel – Reckoned to be the most important tent at the Oktoberfest, mainly because it is where it starts. On the first Saturday of the event, no beer is allowed to be served until the mayor of Munich (currently Christian Ude) taps the first keg, at 12 pm. Only then can the other tents begin to serve beer. Very popular amongst younger people. A substantial part of the tent is guaranteed to traditional Studentenverbindungen (a particular form of student fraternities) and outfitted with their distinctive colors and coats of arms.
Winzerer Fähndl – This tent is noted for its huge tower, with a Maß of Paulaner beer sitting atop it.
Schützen-Festhalle – This is a mid-sized tent. Situated under the Bavaria statue, the current tent was newly built in 2004.
Käfers Wiesen Schänke – The smallest of the large tents at the Oktoberfest, it is frequented by celebrities, and is known for its especially good food. In contrast to the other tents (which must close by 11 pm), it is open until 12:30 am, but it can be very difficult to get in.
Weinzelt – This tent offers a selection of more than 15 wines, as well as Weißbier.
Löwenbräu-Festhalle – Above the entrance is a 4.50 meter (15 foot) lion who occasionally drinks from his beer. This is overshadowed by another tower where another drinking lion sits.
Bräurosl (Hacker-Pschorr) – Named after the daughter of the original brewery owner (Pschorr), this tent has the usual brass band and a yodeler.
Augustiner-Festhalle – Considered by many locals to be the best tent, due to the fact it sells the favourite local brew, Augustiner, from individually tapped wooden kegs rather than stainless steel vats used by the other tents.
Ochsenbraterei – True to its name, this tent offers a great variety of ox dishes.
Fischer Vroni – Another of the smaller tents. Fisch is the German word for fish and this tent carries a huge selection in its menu.
Small Tents[14]
Able's Kalbs-Kuchl – Resembling a large Bavarian hut, the "calf kitchen" is traditional and inviting yet still has a lively party atmosphere Oktoberfest fans crave.
Ammer Hühner & Entenbraterei – In 1885, poultry dealer Joseph Ammer was allowed to construct his small booth at the Oktoberfest, creating the world's first chicken roastery.
Bodo's Cafezelt – Don't come to Bodo's looking for beer. Instead you'll find, exotic cocktails, Prosecco, champagne, coffee, donuts, ice cream, pastry, and strudel variations of all kinds.
Burtscher's Bratwursthütt´n – The smallest tent of the Oktoberfest, its unique atmosphere makes for a relaxing change from the larger tents.
Café Kaiserschmarrn – Beautifully created by Rischart, the Café holds a daily commemoration of the occasion of the first Oktoberfest – the wedding of Ludwig I and Therese of Saxony.
Café Mohrenkopf – Since 1950 Café Mohrenkopf has been baking cakes and pies fresh daily in the Oktoberfest tent.
Feisingers Ka's und Weinstubn – Cheese and everything that complements the cheese is the specialty of the house in this unique tent.
Glöckle Wirt – A visual treat, decorated with oil paintings, antique instruments and cooking utensils, the Glöckle Wirt offers its visitors an authentic Oktoberfest experience in a warm, welcoming atmosphere.
Heimer Hendl- und Entenbraterei – Very popular among the locals, Heimer's is a family-friendly tent where authentic Oktoberfest tradition is timeless.
Heinz Wurst- Und Hühnerbraterei – Since 1906, the Heinz Sausage and Chicken Grill has been a fixture on the Wiesn, specializing in authentic Oktoberfest tradition.
Hochreiters Haxnbraterei – Quality is paramount in Hochreiter's tent, where their BBQ experts prepare mouth-watering pork knuckles in the only haxenbraterei on the Wiesn.
Münchner Knödelei – The dumpling is an icon of Bavarian cuisine, and "preserving and spreading the dumpling culture" is the motto of this smaller tent.
Poschners Hühner- Und Entenbraterei – Poschner's famous roasted chicken and duck has been a tradition on the Wiesn for four generations.
Schiebl's Kaffeehaferl – With seating for about 100, Schiebl's comfy coffeehouse tent is a friendly meeting place for the whole family.
Wiesn Guglhupf Café-Dreh-Bar – A Guglhupf is a German cake, like an English bundt cake, and this slowly moving carousel bar is easy to spot because it's shaped like one.
Wildmoser Hühnerbraterei – Owned by family Wildmoser since 1981, this small tent has been adopted and popularized by the Munich locals.
Wildstuben – The newest tent at Oktoberfest, you'll appreciate the intricate details of the woodwork and the homey hunting lodge ambiance.
Wirtshaus im Schichtl – The mayor Christian Ude once wrote: "An Oktoberfest without Schichtl is inconceivable. The Schichtl is as essential as the beer, the radical and the chicken."
Zum Stiftl – Zum Stiftl is famous for its traditional duck and roasted chicken dishes, cozy atmosphere, and daily entertainment.
Zur Bratwurst – Debuting in 2007, the Hochreiter family have brought back the former Bratwurstglöckl in the spirit of good old Munich Oktoberfest.