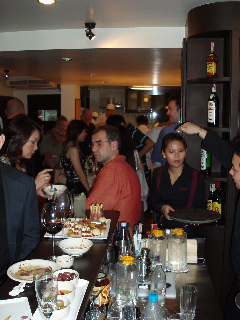 Beccofino Trattoria
44/16 Convent Road
Silom, Bangrak, Bangkok, 10500
Tel. 632-0621-2
Opening Hours: Lunch: 11:30am-2:30pm, Dinner: 6pm-10:30pm
Credit Cards: All Major
Prices: Inexpensive-Moderate
The first branch of Beccofino Trattoria opened on November 3, 2008. The second Beccofino Trattoria opens in Chiang Mai in the beginning of 2009. A trattoria is a more casual version of a ristorante featuring a more informal "Italian home cooking" style.
Beccofino Trattoria on Convent Road is located in a four-story shop house with the restaurant occupying at least two floors, on the Sathorn side of Convent Road with parking in the church across the road. The first floor has a small bar and a smoking section on the terrace and seating for approximately 30 diners. The second floor has a dining room overlooking the high-rise landscape of Bangkok's financial district with seating for around 25 diners and also offers a private dining room for eight persons.