By Sandy Driscoll
The beautiful open kitchen!  (All images on this post ©2010 by restaurantdiningcritiques.com & Sandy Driscoll)
6703 Melrose Ave
Los Angeles, California 90038
Tel. (323) 935-2977
Opening Hours:
Lunch: Mon-Fri 11:45-2:15
Dinner: Sun-Thurs 6pm-10pm; Friday & Sat 6pm-10:30pm
In food-laden Los Angeles, where the restaurant du jour is always changing, Hatfield's is a current top contender. Just last week, both the Los Angeles Times and Los Angeles Magazine came out with exciting and very favorable reviews, three and four stars, respectively.
Quinn Hatfield (chef/owner) and his wife/partner Karen (pastry chef) have been in Los Angeles for several years. They have cooked at Spago and prior to that, at Jean-Georges and Gramercy Tavern, to name a few.  This new and much larger location (formerly Citrus, then a succession of not-as-notable restaurants) has been open only three months.  It seems perfect for them and particularly for those of us who love watching the action of an open kitchen while we eat.
When my friend Susan Beyrle was in town this weekend from NYC, we wanted an interesting place to dine and this seemed to be it. We were seated directly in front center, with a closeup full view of the open kitchen . . . action central!
The option of a prix fixe, four course menu (with several choices for each course) for $59 was the most intriguing, so we went for that.   With a plethora of reviews, food websites, commentators, etc., detailed food descriptions are easily available elsewhere.  Suffice it to say, we really enjoyed everything.   The portions are small and flavors distinct and well managed.   Between the main course and dessert, we were still hungry.  However, we were quite comfortable after the generous and truly delicious desserts.  Service was professional and well-timed.   The excellent wine list provides some interesting wines by the glass.  I particularly liked the 2003 Serie Magno, a Malbec/Tempranillo blend from Argentina's Bodega Fantelli, paired with the beef.
Personally, I was struck by the unusual texture of the short ribs.  I read somewhere that the cooking method was "sous vide", so it was not the usual consistency one expects from short ribs however, the flavor was certainly there.  Early on, I found myself taking mincing little bites of everything (particularly the Squid Salad) so as to prolong the flavor bursts in my mouth and to savor each taste and lengthen each delightful course.
At the end of the meal, the waitress invited us into the kitchen to meet the chef!  Chalk it up to serendipitous luck!   It was a fine and fun evening.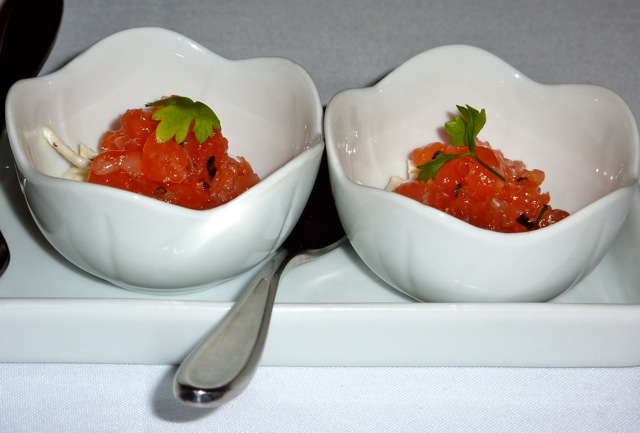 Amuse Bouche . . .Tuna on Shaved Celery Root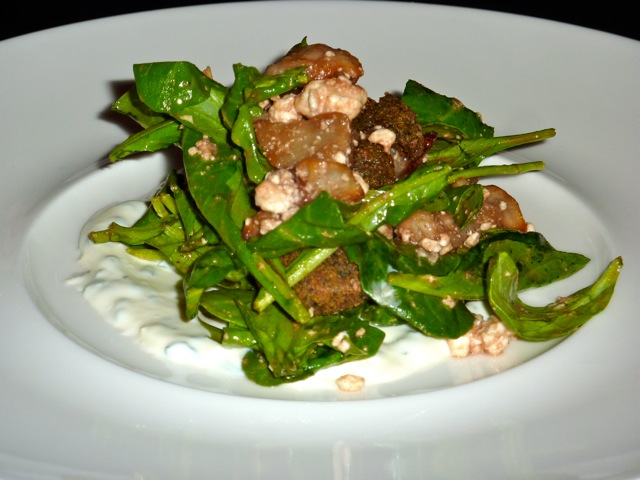 Roasted Sunchoke & Rocket Salad, French Feta 'falafel' crumble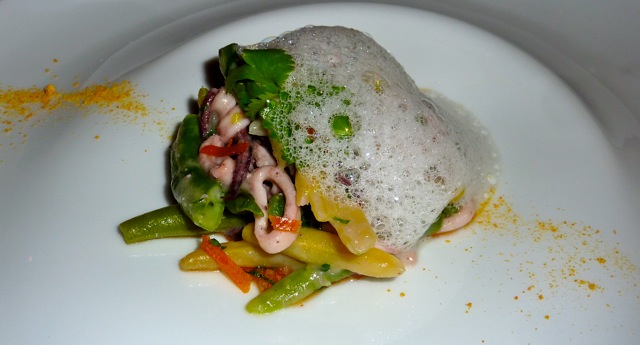 Monterey Bay Squid Salad … Sauteed Blue Lake & Yellow Wax Beans, Ginger Chermoula
Sugar & Spice Beignets, Venezuelan Chocolate Fondue, Preserved Ginger Milkshake Shot
Hot Chocolate Souffle Tartlet with Chicory Chocolate Chip Ice Cream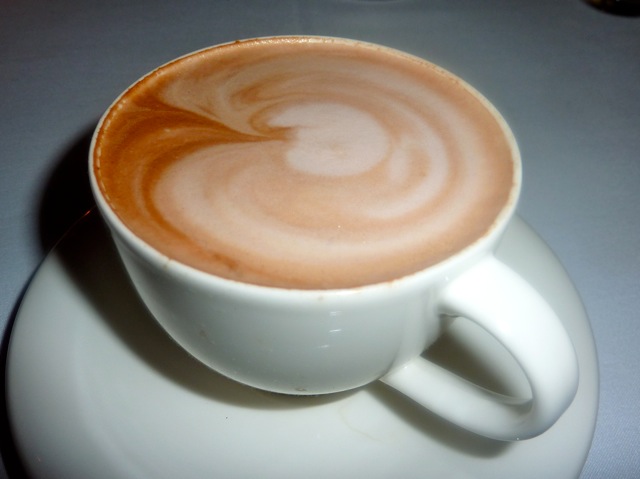 Mocha Caffe
Chef Hatfield (right) carefully inspects each plate and adds finishing touches