Bintan Island – Indonesia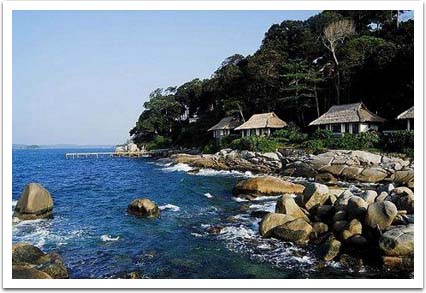 In 1990 while residing in Singapore, I was obliged to renew my visa every two weeks, which required me to either take a boat to Batam Island in Indonesia or to take a taxi to the bridge that crosses over to Jahor Bharu in Malaysia. If you choose the latter, it is necessary to switch to a Malaysian taxi that takes you over the bridge into the dusty, chaotic city. I usually opted to take the 30-minute ferry trip to Batam, to me a more relaxing mode of travel, and spend a quiet weekend there while also accomplishing the renewal of the visa at the same time. 
Almost every weekend, I was pleased to escape the constraints and restrictions enforced at the time in the city-state of Singapore, and make a dash to one of these islands.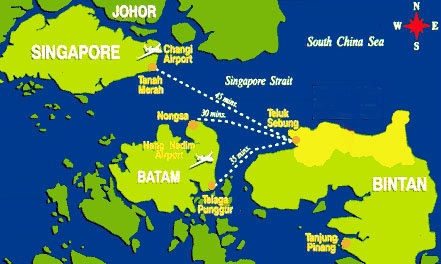 Above Map: Tanjung Pinang at the bottom right of the map. It seemed as if it could be a thousand miles from Singapore.
On this particular weekend I decided to visit the village of Tanjung Pinang on Bintan, a large and mostly undeveloped island at the time in the Riau group, which are scattered in the South China Sea between Borneo and Sumatra. Chloroquine resistant mosquitoes plague the Riau and there is always a risk of contracting malaria, although for me, the excitement of visiting a new place temporarily obscures these fears.
The large catamaran "Supercat" with its high free-board had difficulty docking in the high wind and heavy rain produced by a sudden squall. Barely visible through the window a cluster of rusty, corrugated tin roofed buildings were huddled together on a platform held up by stilts and attached to a decaying, old pier.
A boy representing the main hotel, Riau Holidays Inn led me down a pier to a small boat on which we had a hairy ride to the dock of the hotel, which sits on stilts above the sea. The lobby was dark at mid-afternoon, as the storm was still raging, and the only light came from a few low-wattage globes. I had a premonition that this trip was going to be anything but fun.  The deluxe room was appallingly dirty; worn carpets on the floor, dirty drapes with some of the fastenings missing that hung limply over salt stained windows, in the bathroom a wretched toilet with the seat missing and when flushed produced a trickle of water with a vile smell of sewerage.  The water, needless to say, trickled out of the tap in the bath and the sink at the same speed and they were equally useless.
I walked down the dark hall towards the bar amidst the pungent smell of durian coming from most of the guestrooms and was particularly evident under a sign which stated NO DURIENS IN THE HOTEL PLEASE!  Having reached the bar I ordered a gin and tonic and settled back as I gave a look at the worn, badly stained and poorly photocopied menu.  After one more drink I placed my food order with the bar girl.
Only to be told, "Sorry kitchen closed."
I looked at my watch. I couldn't believe it. It was only five past eight.
"You may have a sandwich", she said sympathetically.
"OK, I'll have the chicken sandwich."
"Sorry no chicken."
"All right, which sandwiches do you have?"
"Sardine sandwich, mister."
"OK, sardine sandwich."
The night market is by far the best place to dine at night, located near a mosque and some Dutch Colonial houses built on the hill, which must have been quite grand at one time. At night kerosene lamps light the pier and when the tide is low, piles of garbage are visible through large gaps in the rotting and mostly unsecured boards.
The rain had reduced to a drizzle so I ventured out the back entrance of the hotel onto the pier where the thick, night air was hot and humid. Bunches of rambutan and piles of durian are stacked everywhere and the vendors are doing a brisk business; intermittent smells of sewerage and durians almost seem to mingle, although each is distinctly different. Motorbikes inch their way through the foot traffic and cause the loose boards to rise and fall making a rattling, popping sound. The locals blatantly stare as I make my way down the pier and onto the pot-holed, red, mud-filled streets.  A middle aged man riding a motor scooter stopped me as I sauntered along and amazed me with a short dissertation on American and Canadian geography.
"Ottawa is the capital of Canada isn't it?"
"Mt. Whitney was the highest mountain in North America before Alaska became a state?" "Right?"
Slowly I manage to ease away from this "world atlas on a motor bike" and continue to see the rest of the village.
Not more than a few minutes later I heard a soft voice from behind say,
"Hope you won't mind if I walk with you and practice my English, I speak little."
I turned around and there appeared a thin boy wearing only blue shorts close on my heel. After a minute or so of difficult conversation as we walked, he pointed to a large Dutch house in serious disrepair.
"Will you come to see the house where I live?"
Curious to see the interior of one of these Dutch houses, I cautiously answered in the affirmative. We entered a long room with narrow couches on both walls and long tables in the center covered with embroidered cloths, which draped over the sides. Paintings of Indonesian landscapes hang on the walls.
The boy cordially asked again in the same soft voice, "Would you like some tea?"
"No, but thank you very much", I replied.
He pulled out some albums from under one of the tables and began to thumb through them proudly showing me photos of his friends and family in Sumatra, his birthplace.
He surprised me by saying, "Would you accompany me tomorrow morning at 7am to my English class?"
"I would like to", I said. "However, 7am is a little early in the morning for me."
"Maybe we can meet later in the day?"  He replied.
"Maybe", I said, leaving it open.
Tired of being constantly approached and badgered I return to the hotel and prepared to have a quiet drink, trying to postpone the return to my worn and unpleasant room.
A young Indonesian man, standing next to me at the bar, blurts out, "I am going next week on my honeymoon to New York and I speak little English, maybe I should buy Mandarin Chinese/English computer—I speak Mandarin and Indonesian."
I answered quickly, "Why are you going to New York for your honeymoon?"
He didn't understand so I tried again. "New York is not a good place for honeymoon".
"Oh, my wife has family in New York," he answered.
"Well, in that case you probably will not need the computer," I went on.
"Why?" he asked.
"Because your wife's family will guide you around the city".
The conversation that continued tenuously was thankfully halted when he said, "Let's go up to my room, drink some beer and you can meet my friend, he speaks good English."
We climb the stairs and walk down the dark hall and enter his room, which is in as bad a condition as mine. He introduces me to his friend who is a fat, jolly little man who spoke just slightly better English than he does. Four drunk young men are half-sitting, half-lying on the two swayback beds.
"Don't mind the condition of these men",  the friend says as he rips off his shirt exposing a white, hairless chest and a potbelly, "We are all celebrating the marriage of our friend who departs for New York next week.  My nick-name is Puja and here is my card, my uncle owns this hotel".
I thought to myself, if he is a relation to anyone who would own a hotel like this, I do not want to know him!
"Would you like to try some satay and noodles from the night market and some cold beer?"
Before I had the chance to answer, he told his friend, "Call the waiter."
The food and beer arrived in due course and Puja attacked one of the plates of noodles with loud slurping sounds. He then reached for a skewer of satay and literally vacuumed off pieces of meat all while quaffing down beer.
"I must be leaving", I said.
"Meet us tomorrow morning", my jolly host said, as he brushed noodles and sauce from his mouth with the back of his arm, "We will call at your room at 10 am—then  some beer and a big lunch, you will like it, you will certainly like it!
I set my alarm for 7:30 a.m. knowing a boat departed at 8 a.m. and the next morning, quickly took my bag and very quietly went out of the room and down to the lobby. Soon I was on a boat to Batam, I sat looking through the window at its wake bouncing off the stilts of the hotel that was disappearing slowly into the distance.