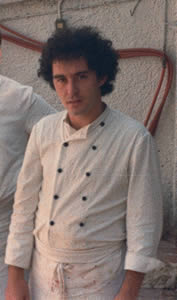 Ferran Adrià working at El Bulli in 1983 (image credit: El Bulli)
Jose Andrés and Ferran Adrià will teach a 13 week intro to "culinary physics" at Harvard, culminating in a working demonstration of how to make foams and emulsions, the backbone of molecular gastronomy.
El Bulli will definitely close, as it had always been dependent on speaking engagements and publications for profitability, rather than income derived from the dining room. It will reopen in two years as a research center for 25 chefs and will still serve 60 meals a year in the restructured space with the dining room & kitchen still intact—it will just be a more difficult reservation than in the past—if that is possible!
Links to previous posts at Restaurant Dining Critiques about El Bulli:
El Bulli Restaurant, Roses, Spain to Close for Two Years
El Bulli Intends to Close Permanently