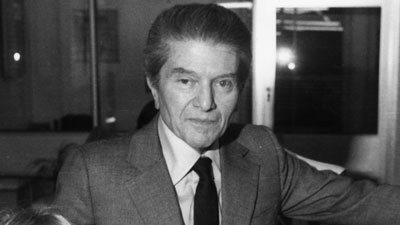 Egon Ronay, who passed away at the age of 94 on June 12, 2010, had accomplished a great deal in his effort to change horrible post-war British cooking, admitting that, "British food got the reputation it deserved." He started the Egon Ronay's Guide, read by a new generation of diners who thought they deserved better from restaurants than overcooked meat and soggy vegetables. He played an important part in raising culinary standards in the UK, especially for helping to change British diner's indifference to what they were eating in restaurants, into criticism or praise.
During the 1980's my friend, David Langlands, who has also passed away in the year 2000, wrote for the Egon Ronay Guide.

For The Egon Ronay Guide Complete List of the 200 Best Restaurants, Follow This Link: The Top 200 Best Restaurants

Three stars:
Hibiscus, Ludlow, Shropshire
Tom Aikens, London
Waterside Inn, Bray, Berkshire
Two stars
Andrew Fairlie at Gleneagles, Auchterarder, Scotland
Aubergine, London
Bath Priory, Bath
Bohemia, Jersey
Box Tree, Ilkley, West Yorkshire
Capital, London
Chewton Glen, New Milton, Hampshire
Fischer's at Baslow Hall, Baslow, Derbyshire
Gidleigh Park, Chagford, Devon
Gordon Ramsay, London
Le Champignon Sauvage, Cheltenham
Le Gavroche, London
Le Manoir aux Quat' Saisons, Great Milton, Oxfordshire
Martin Wishart, Edinburgh
Midsummer House, Cambridge
Morgan M, London
New Angel, Dartmouth, Devon
Novelli at Auberge Du Lac, Welwyn Garden City, Hertfordshire
Oriel Gilford, Northern Ireland
Orrery, London
Petrus, London
Rasoi Vineet Bhatia, London
Richard Corrigan at Lindsay House, London
Samling, Windermere
The Square, London
Tyddyn Llan Corwen, Wales
Winteringham Fields, Winteringham, North Lincolnshire
W'Sens, London
Ynyshir Hall, Eglwysfach, Wales
Yorke Arms, Pateley Bridge, North Yorkshire.