One of Bangkok's Top French Restaurants
Le Beaulieu Restaurant
Sofitel Residence
50 Soi 19 Sukhumvit Road
Bangkok, 10110
Tel. 02-204-2004
Fax. 02-204-2005
email: info@le-beaulieu.com
Credit Cards: All Major
Prices: Expensive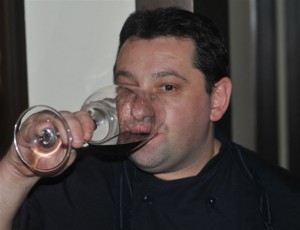 Herve Frerard photo credit: Bruno R. Ropsy
Le Beaulieu by Chef Herve Frerard is one of the top French restaurants in Bangkok, based on my frequent dining experiences there and elsewhere, although Herve claims the cuisine to be Mediterranean, with the exception of the odd pasta dish sprinkled here and there and a few recipes from Provence, it is basically mainstream French and I could not be more pleased, as at the moment we have more than enough Italian restaurants in town and not enough French to suit me.
It has a seating capacity of 45, including the small private room on the mezzanine up the stairway, a perfect size to produce the excellent cuisine that comes out of the small but well thought out and designed kitchen. The restaurant is centrally located on Sukhumvit Soi 19, just passed the first cross street turn right into the Mecure Sofitel Residence and it can be found on the ground floor. Skytrain and subway connections are within walking distance.
Turning to the cuisine, which is why you would be dining at Le Beaulieu in the first place, it is most often excellent; and following are just a few highlights:
Dinner starter: Parmentier of Roasted Frog Legs and Baby Leeks, Lentil broth, garlic and fresh chervil 480; Snail Lasagna and Poultry Breast, Spinach shoots and green tomato syrup 420;
 Dinner main course: Braised Veal Cheek Cooked in Merlot Wine and Old Port, Celeriac purée, black olives and sun dried tomatoes 950
; Chefs Specialties: Roasted French Bresse Pigeon, Cépes mushrooms and braised endives, orange bitter condiment 2000; 
Soup: Artichoke Soup & Half-Grilled Violet Artichoke, white truffle foam 390.
Above: Brandade de Morue a new plat du jour at Le Beaulieu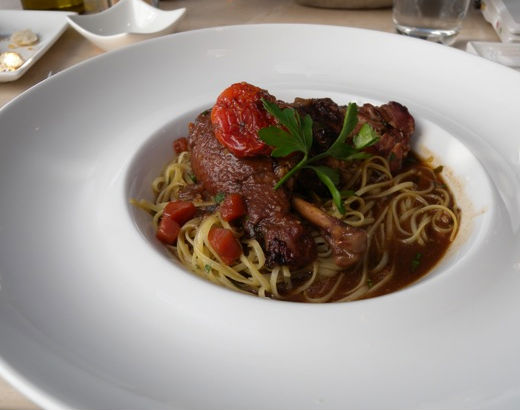 Above: Coq au Vin, Le Beaulieu
Crêpe Suzette, Le Beaulieu
Business Lunch Three Courses 525++ or Executive Lunch Three Courses 825 ++
  For instance they might feature: Starter: Fresh Japanese Scallops and Sea Urchin, Celeriac purée
 Main: Traditional Australian Beef Tartar, sautéed baby potatoes and rocket salad;
 Coq au Vin made with Merlot wine. There are many other classic dishes that change on a weekly basis.
For dessert give the Traditional Chocolate Mousse with whipped vanilla cream a try. It is the best rendition available in the city. They use the Doi Inthanon vanilla beans from the north of Thailand in all the vanilla sauces and vanilla ice cream. Chef Herve is a vanilla devotee as I am. Another excellent dessert is the Rum Baba with Chibousi cream and Pacojet vanilla ice cream, made with plenty of good Rum from Martinique.
I have sampled Herve's cuisine in a couple of other restaurants in Bangkok in the past. The cooking in those operations, for whatever reasons, were not in the same league with the outstanding fare he is presently offering at Le Beaulieu.