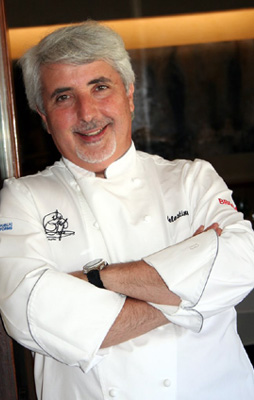 525 South Flower Street, Suite #120, Los Angeles, CA 90071
Tel. 213-228-8998
Fax: 213.228.0028
Website: http://www.dragocentro.com
Credit Cards: All major
Prices: Expensive
Celestino Drago's new Drago Centro Restaurant opened in downtown Los Angeles, at City National Plaza and opened officially on Tuesday December 2, 2008. The restaurant is now open and has received rave reviews not only for their highly acclaimed cuisine and accomodating service staff but have also received customer satisfaction with the cutting edge and yet comfortable surroundings. Following are the sample menus:
menu degustazione
six course tasting menu  75
beverage pairings  40
fiori di zucca
squash blossoms, ricotta, balsamic vinaigrette
pra soave, classico, veneto  2007
agnolotti
corn & ricotta agnolotti, summer truffles
feudi della medusa, vermentino, albithia, sardenga 2006
ippoglosso
alaskan halibut, grapes, almonds
castello di ama, sangiovese rosato, toscana  2007
anatra
duck, foie gras, cherry tomato
gulfi, nero d'avola, nerojbleo, sicilia  2005
guanciale di vitella
veal cheeks, fava bean risotto
grifalco lucania, aglianico del vulture 2004
panino di cioccolata
hazelnut ganache, bananas, bacon, brown sugar gelato
rooibos zaya
antipasti
per cominciare "to begin"
la burrata 13
burrata, tomatoes, olive oil, crostino
il fegato d'anatra 16
foie gras crème caramel, arugula puree
il carpaccio di langostino 18
langoustine carpaccio, blackberries, micro herbs, citrus dressing
le cozze n'pepate  13
sautéed mussels, cracked black pepper, olive oil, garlic, lemon
il carpaccio di capriolo 16
venison carpaccio, walnuts, sherry vinaigrette
il tagliere di affettati con gnocco fritto 16
house selection of charcuterie, gnocco modena style
la zuppa 10
tuscan green lentil soup
le insalate "the salads"
i carciofi 15
grilled artichoke, belgian endive, candied pistachios, evoo sabayon
le verdure e lattughe novelle 14
assorted baby vegetables, young lettuces, white balsamic vinegar
le lattughe miste 10
mixed baby lettuces, red onions, brioche crisp, lemon vinaigrette
la panzanella di bietole 14
market beets, focaccia croutons, baby spinach, truffle pecorino
primi piatti
le paste all' uovo "fresh egg pasta"
gli spaghetti alla chitarra con pesto alla trapanese 18
basil spaghetti, tomato-almond pesto
le fettuccine all'aragosta, stile carbonara 29
fettuccine, lobster, espelette crème, "carbonara style"
le pappardelle al fagiano 19
pappardelle, roasted pheasant, morel mushrooms
i cavatelli di ricotta e spinaci  17
house made spinach ricotta cavatelli, venison-mushrooms ragout
le paste di grano duro "hard durum wheat pasta"
i paccheri 20
paccheri, spot prawns, puttanesca sauce
i rigatoni all'amatriciana 17
rigatoni, smoked pork jowl, onions, tomatoes, pecorino
i pizzoccheri della valtellina 18
buckwheat pasta, cabbage, potatoes, fontina, sage cream
i garganelli 17
garganelli, pork sausage, parmesan, fennel seeds
e paste ripiene e al forno "filled and baked pasta"
i cannelloni di piselli 17
bufala ricotta cannelloni, peas, almond butter
i ravioli al gusto di coda alla vaccinara 18
oxtail ravioli vaccinara style, celery root, broth
lasagna di vegetali 17
grilled vegetable lasagne, bechamel
i risotti "italian rice dish"
il risotto "vialone nano" con finferli e gorgonzola 19
risotto, wild mushrooms, gorgonzola
il risotto "vialone nano" con barbabietole rosse e gamberi 18
il risotto "arborio" al salto con ragu'di polpo e aglio orsino 19
crispy risotto cake, octopus, young garlic sauce
secondi piatti
i pesci "fish"
l' ippoglosso con piselli 30
alaskan halibut, peas, salsify, cherry tomatoes
il branzino 33
branzino, cioppino broth, shellfish
la trota salmonata 30
ocean trout, asparagus, tomatoes, salsa piccante
le carni "meat"
la quaglia 29
focaccia stuffed quail, cannellini beans
la lombatina di vitella 36
grilled veal, sweetbreads, green lentil ragout
l'osso buco d'agnello 29
lamb ossobuco, hazelnut rosemary gnocchi, fava beans
il pollo ruspante 27
truffle crusted chicken breast, forest mushrooms
la bistecca di bue piemontese 37
piedmontese ny steak, fingerling potatoes, basil crème
la bistecca "piemontese" per due, con zabaione di bagna cauda 80
grilled piedmontese porterhouse for two, panelle fries, mushrooms
chef: celestino drago              chef di cucina: ian gresik
direttore: matteo ferdinandi
a service charge of 20 % will be included on parties of six or more
They will feature an Enomatic Wine System, an automated and improved version of the first rudimentary system,  introduced to the United States by the original Cruvinet Company in Santa Monica in 1980 not to be confused with the cheaply built knock-off in existence today. The original design was patented by Jacques Foures in Bordeaux, France in the late 1970's. I am so pleased that the original system that has now been automated and vastly improved through new technology will have a new resurgence. I think that the time is right for wine lovers to finally understand how useful this device can be, to preserve wines and dispense them by the glass without spoilage, as if they had never been opened.