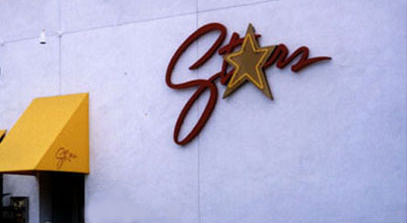 Jeremiah Tower was indeed a colorful character in his heyday in San Francisco, he was an infamous tippler who favored prodigious quantities of Champagne; he usually wore red socks, never mind if they clashed with the rest of his outfit; by his many public admissions, including a few catty remarks he made about two-timing Alice Water with her own boyfriend (apparently he would go in any direction when it came to his sexual preferences); during the stormy business relationship between he and his partner Doyle Moon, Tower commented, that Moon was . . . "a fierce Apache in mirrored sunglasses".
If you were not living in the San Francisco Bay Area in the 80s and early 90s you might not be aware that Jeremiah Tower was the head chef at Chez Panisse and together with Alice Waters were instrumental in spearheading what was to be called "California Cuisine". He did a stint as chef at Balboa Cafe, he was also the chef and co-owner of Santa Fe Bar and Grill, a 50% partner, the chef, and center of attention at the "super restaurant" Stars.
Below is a link to William Grimes, the New York Times Critic's brilliant piece written after the release of Tower's controversial book, "California Dish: What I saw (and cooked) at the American Culinary Revolution" (2003).
Critic's Notebook; Raising a Glass to Himself; Jeremiah Tower Grills His Peers
Another link to an interesting article, written around the same time period, by Kim Severson, SF Chronicle Staff Writer, follows:
Jeremiah Tower's memoir of a turning point in American cuisine is hot and salty, sweet and sour
Recently J.T. has been reported living between Italy and Mexico, scuba diving and resurrecting old colonial houses.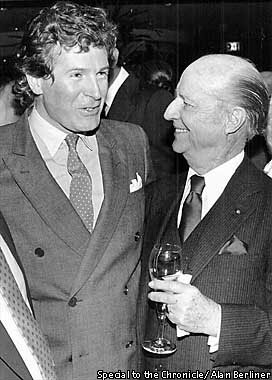 Jeremiah Tower with wine author, Robert Lawrence Balzer (image credit: Alan Berliner for SF Chronicle)
Tags: Jeremiah Tower's Tumultuous Times in San Francisco, Stars Restaurant S.F., The Rise & Fall: Jeremiah Tower's Restaurant Empire