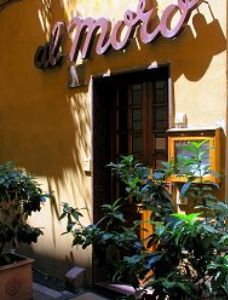 Vicolo delle Bollette 13
+39 06 678 34 95
Opening Hours: Mon-Sat 1-3:30pm and 7:30-11:30pm
Credit Cards: MC, V
Closed August
Prices: Expensive
Al Moro has been around for a long time, in fact since 1929, and was a restaurant favored by the director, Frederico Fellini and others in the film crowd during the sixties and seventies. The son of the founder Moro, called Franco keeps up the family tradition by appearing to be quite surly as he stands guard at the door. The rooms are quite dark and physically things have changed not at all since I used to frequent this restaurant in the seventies.
The menu still offers traditional Roman cuisine with classic dishes such as: fritti alla romana (zucchini flower and ricotta) or spaghetti alla Moro with egg, bacon and red peppers, calamari alla Moro, abbacchio al forno (roasted lamb), crispy roasted baby goat flavored with fragrant rosemary, Roman-style stewed milk-fed lamb with tomatoes, and or course, crispy fried artichokes.
I was able to find a proper bottle of Frascati here after some previous disappointing attempts.
I had heard that the cooking was a little watered down from its former self, but quite frankly, I found it still
good—although I stuck to the old favorites.