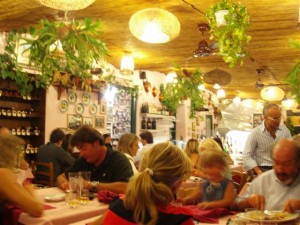 I was a frequent customer and knew Gemma very well, what a lovely lady! She always wore a red sweater or some article of clothing in bright red and was constantly smiling and greeted most of her customers personally. It was in the sixties when I first met her, and a photo taken in those days still hangs above the reception desk. This was the era when Capri was a destination for the "Dolce Vita" set. In those days, every evening was like a fashion parade on the streets of Capri with ladies dripping with jewelry and dressed in Emilio Pucc These days' things have changed, and the torn jeans crowd has taken over, although one thing that will never change is Capri, thank God, as they have a no-build law and everything is regulated to preserve the island in its original state. There will be no mega-malls or high rise condos as long as the five or six families that control Capri are in charge.
Da Gemma also has a small pizzeria, across the small tunneled alleyway that winds along in front of the main restaurant, and the pizzas are the best on the island. The dining room faces the Marina Grande side of the island and Gemma's location is just above the stairway that leads up from the piazza next to the church.
Every day the restaurant has fresh fish or veal prepared any way you wish, and a very lengthy menu that you can choose from, it all may be washed down with an excellent bottle of fresh, easy to drink, Capri white wine (10-5% -11% alcohol) in addition to the famous labels from around Campania that are offered on the wine list. Booking a table is essential in the evening!
Pictured below: Akiko Grace Marshal in the arms of the receptionist at Da Gemma. Above her head is a photo of her father, Kit Marshal, circa 1960, and just above that, a photo of Kit with the current owner in 2006.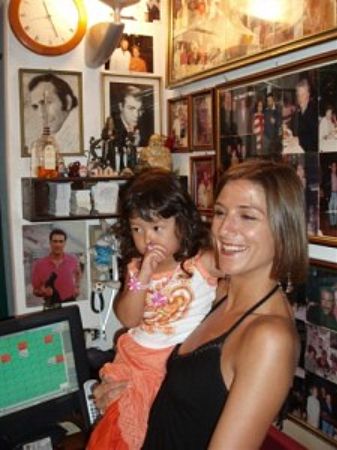 Tags: best bet Capri, best pizza, Capri, excellent cooking