8 Rangnam Road, Ratchathewi, Thanon-Phayathai, Bangkok, Thailand 10400
Tel. +66 (0)2 680 9999 – Fax. +66 (0)2 680 9998
www.pullmanhotels.com – www.accorhotels.com
I attended a promotion tonight at the Pullman Hotel at Déjà Vu Restaurant featuring the cuisine of Chef Manuel Martinez who was the head chef at La Tour d'Argent in its three-Michelin star days. After a disagreement with owner Claude Terrail regarding a modernization of the menu, he left and opened his own restaurant, Relais Louis XIII that has now attained two-star Michelin status, while La Tour D'Argent has dropped to only one-star, however it should be mentioned that Claude Terrail is no longer in charge, as he passed away two years ago.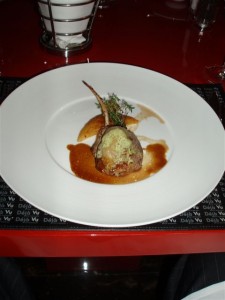 As far as the dinner is concerned there is not much point in going into great detail, as things on the service side did not go well from the onset. For example, one of the bartenders in the bar next door when asked where the Sauvignon Blanc was produced, he answered, "Russia". I knew that was not possible and it turned out to be South Africa. The waiter took so long to bring the wine, which had to be requisitioned from this same bar, I could not help but mentioned to my friend who was dining with me that I was certain the first course would arrive before the wine. When, indeed this happened, I told the waitress to send it back to the kitchen, although just at this moment the wine appeared. The Chef, who is a very personable fellow, performed as well as could be expected using products from a foreign country; I understand that the food products were obtained from local or Australian/New Zealand sources and as I heard, he did not bring many products from France with him.
Quenelle soufflé de brochet, pike dumpling and mushroom mousse with champagne sauce came off well (I have not had this dish for many years) as did the Côte d'Agneau, lamb chops, spring onion ragout, garlic bulb and potato confit (photo on left).
The prices of the set menus were reasonable as were the French wines on the hotel's wine list and it would be worth the effort to go to the hotel, located near Victory Monument, for that reason alone. The explanation why some wines were priced so well is most likely due to the ownership of one of the partners, KIng Power (for those who are unfamiliar, King Power has the monopoly on duty free goods at the airports and shops throughout Thailand. Directly next to the Pullman Hotel they have constructed a huge complex where buses bring thousands of tourists every day to buy duty free goods).
Tags: KIng Power, Manuel Martinez, Michelin stars, Pullman Hotel