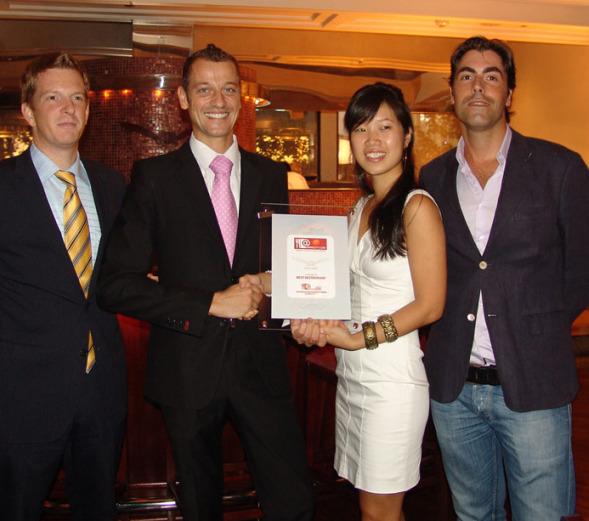 Palladio wins Best Restaurant Award for Shanghai Restaurant Week
Shanghai Restaurant Week – Summer Edition was declared a success by diners and restaurateurs, with over 3,000 reservations made through the online system. Special menus crafted by chefs just for Shanghai Restaurant Week helped lure thousands of city diners to lunch and dinner through the week and generated more than 1.5 million RMB in revenue for Shanghai's hospitality industry.
This edition's Best Restaurant – Shanghai Restaurant Week went to Italian fine-dining mainstay Palladio, which scored 9.6 in the reviews. Chef de Cuisine Gianluca Serafin and Restaurant Manager Fabrizio Bosco created a unique menu and warm environment that won praise from reviewers.
Kris Kaminsky, Executive Assistant Manager, Food & Beverage received the award on behalf of the restaurant. "It is the ultimate achievement to receive an award that comes from the guests," he said.  "Restaurant Week was a great opportunity for the food lovers of Shanghai to experience some world class dining and it is truly an honor to have been chosen as The Best Restaurant. We look forward to welcoming everyone back to Palladio to enjoy Chef Gianluca's inspired cuisine and Fabrizio's warm Italian service very soon."
Restaurant Week is proud to be partners with Cloudy Bay, Cape Mentelle, Chandon, Lapostolle and Terrazas, discover the flavors from all over the world at your favorite restaurants. San Pellegrino and Acqua Panna are also sponsors of this special event.
As part of the congratulations to Palladio and in celebration of Cloudy Bay Vineyard's 25th anniversary, on October 18th, 2010, Cloudy Bay will serve its latest release, Cloudy Bay Sauvignon Blanc 2010 vintage to the first 25 customers for lunch at Palladio.
Look out for the next edition, coming March 7-13, 2011.  While the selection of participants in Shanghai Restaurant Week is rigorous, interested restaurants can make the first step by signing up at DiningCity.com.
www.diningcity.com/shanghai, Organizer Contact: Ms. Wiwi Cao, Diningcity.com/shanghai, wiwi@diningcity.cn; Media Contact: Loretta Huan, Adsmith China, loretta@adsmithchina.com
Tags: Chef de Cuisine Gianluca Serafin, Palladio Wins, Restaurant Manager Fabrizio Bosco, Shanghai Restaurant Week