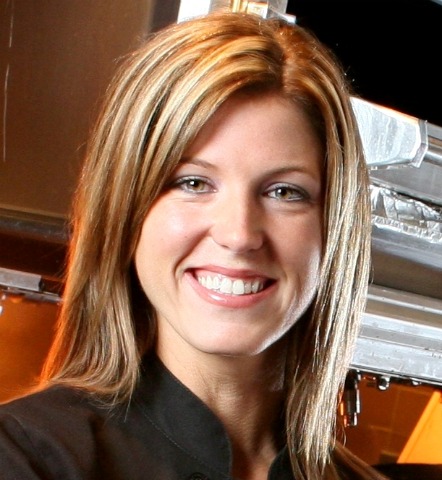 Shinsei alum and Top Chef favorite Casey Thomson is burning a trail back to D-FW, having been named executive chef at the upcoming Brownstone restaurant in Fort Worth. Located in the glitzy new West 7th development, the eatery has been open since last summer. Here's more from the news release:
THE FOOD
Inspired by traditional family-style recipes and time-honored techniques, Chef Thompson's menu captures the essence of the south's unique culinary flair with dishes comprised of the freshest regional ingredients ranging from familiar and classic to modern interpretations. As Chef Thompson notes, "it's the food you grew up loving".

Brownstone's menu is comprised of small plates for sharing as well as heavier faire and a selection of sides that utilize organic and locally farmed produce and meats whenever possible. The small plates selection features southern-style specialties that include Grandmother's Biscuit Pan made-to-order from a wood-burning oven served with fruit preserves and venison sausage; Pork and Peppers made with blistered baby bells, ricotta, slab bacon, Texas honey and jalapeno oil; a selection of fire-baked Chicken Pot Pies; and Texas BBQ Smoked Pork "Rib-lets" served with rib candy and house-made sauce.

Diners wanting heartier options will enjoy dishes such as Buffalo Skillet Steak served with rosemary-thyme roasted mushrooms and creamed spinach and Tart Cherry and Wine Braised Pork slow cooked and falling apart over spoonbread.

Patrons can also select from a plethora of sides that include pickled vegetable jars; waffle fries and mayonnaise; and slow cooked heirloom pinto beans and bread.
THE DRINKS

Brownstone will offer a wide variety of culinary-inspired specialty cocktails and martinis made with fresh local produce, purees and herbs with ingredients ranging from agave nectar to tarragon and thyme, and local peppers and spices. Playing off Chef Thompson's southern-inspired cuisine, Brownstone's drink menu will offer modern versions of classic American cocktails as well as custom creations with a special twist.

Brownstone's wine list will consist of a broad range of moderately priced eclectic wines with local and global selections offering both new world styles with old world favorites.
Tags: Brownstone Fort Worth, Chef Casey Thompson, Opening Second Branch Dallas