By Sandy Driscoll
Here we are in Bandon . . . on the beach.  This is the view from our motel room. All images on this post are ©2010 by restaurantdiningcritiques.com & Sandy Driscoll
Bandon, Oregon is a charming coastal town located 90 miles north of the California border.   With a population of 3100, they are known for their three world class golf courses, and spectacular rock-laden ocean sunset views.   
http://www.bandon.com/
Last year, I discovered the Alloro Wine Bar and Restaurant, where I had a truly memorable meal.   Alloro is owned by Jeremy Buck and Lian Schmidt, both of whom lived and trained in Florence, Italy.   Jeremy is a talented chef who uses fresh local ingredients and Lian is the wine steward.   She is adept at picking just the right wine to go with Chef Buck's Tuscan-inspired and innovative cuisine.   Everything is very reasonably priced, and there are excellent wines by the glass.  The menu changes seasonally, depending on what is fresh and available.
The restaurant is attractive, with a wine bar, white-clothed tables, and efficient and friendly servers.   Even when crowded, it is quiet enough for a pleasant conversation with dinner.   Everything I ate was memorable, and I enjoyed it so much last year that this year I returned, spending a night at the Bandon Beach Motel, where every room has a spectacular
Crab and Avocado ……  Dungeness Crab, avocado, lime, tomato, scallion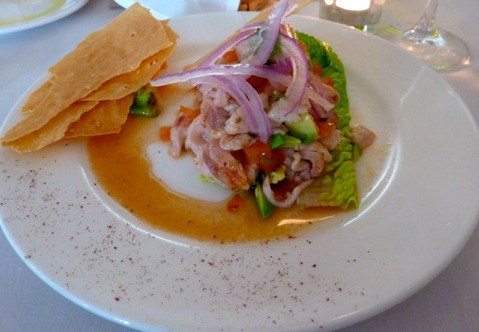 Ceviche…. White fish cured in lime, red onion, mint, avocado, Cascabel chile powder, romaine, Sardinian flatbread
Steelhead Trout (fresh caught) ….. Crispy skin, passion fruit butter, morel mushroom jus (and fresh morels!) asparagus and wild watercress
Pork, Chiles and Chocolate…….Braised pork shoulder, Cascabel chiles, oregano, tomato, chocolate, hazelnuts with
spinach and ricotto dumplings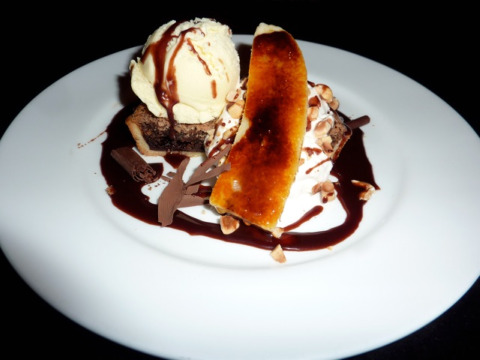 The special Chocolate and Ice Cream dessert topped with a Bruleed Banana sliver and chopped nuts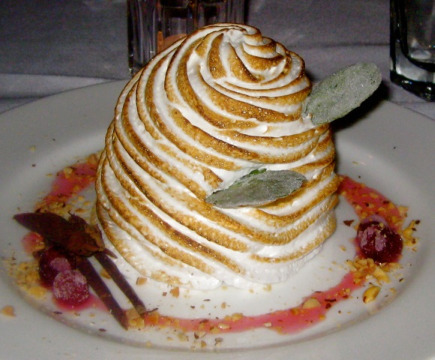 Bandon Alaska, Allora's delicious version of Baked Alaska…….cake, homemade hazelnut ice cream, cranberries (grown & harvested locally), chocolate and sugared mint leaves