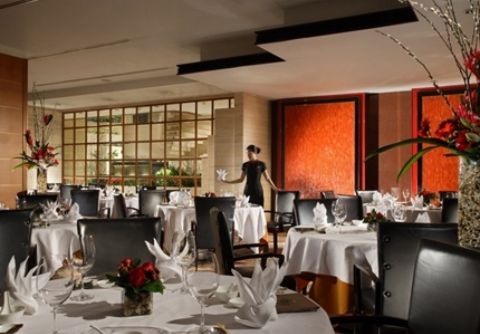 39 Scotts Road, Singapore 228230
Sheraton Towers Singapore
Reservations
(65) 6737 6888
Sheraton Towers Lower Lobby Level
39 Scotts Road, Singapore 228230
Tel. +65 6839 5623
Fax. +65 6737 1072
Website: http://www.sheratonsingapore.com/libai.html#menu1
Opening Hours: Monday- Saturday
Lunch 11:30am – 2:30pm
Dinner: 6:30am – 10:30pm
Sunday
Lunch: 10:30am – 2:30pm
Dinner: 6:30am – 10:30pm
Credit Cards: All Major
Prices: Expensive
I remember first dining at Li Bai and I gave it one of the highest ratings for the Chinese category in 1990 and being most impressed by the jade chopsticks and silver holders along with the bone china plates and elegant décor, as well as its excellent Cantonese cuisine.
Named after the famous Tang Dynasty Poet, the restaurant is known for its proper service, Dim Sum and the Sunday Yum Cha, which has become a habit for their regular patrons.
Executive Chinese Chef Chung Yiu Ming was born in Hong Kong, the center of authentic Cantonese cuisine, he has had 30 years of experience as a chef preparing this cuisine in Hong Kong, China and Singapore.
A few of his specialties are: Pan-fried Lamb Chop with Black Pepper Sauce, Sautéed King Prawn with Shimeiji Mushroom in X.O. Chilli Sauce and Sautéed Superior Shark's Fin with Crabmeat & Beansprouts served with Shark's Bone Soup.
It is interesting to note, that the chef at the Peninsula Hotel in Hong Kong created a new sauce which he presented to Mr. Yutaka Oyamada, the Chairman of Clarion Corporation from Tokyo, Japan. The chef said, "I do not have a name for this new sauce creation", at which point, Mr. Oyamada raised his glass of Hennessy X.O. cognac, that he was drinking at the time, in the Asian style with crushed ice, and said, "You should name it "X.O. Sauce". The chef agreed, the name stuck, and it has been know by that name ever since.