Tel. +39 081 8370591
Fax. +39 081 8376113
Via Faraglioni, 5
80073 Capri (Napoli)
daluigi@hotelcertosella.com
www.hotelcertosella.com
Credit Cards: All Major
Prices: Moderate
It is a lovely walk along Via Tragara and down the steep hill through the Mediterranean pine tree forest until you finally see the giant Faraglioni outcroppings coming out of the sea directly in front of you. Situated in front of these rocks is restaurant Da Luigi that has a large terrace that overlooks the water and in the distance you can see the mainland.
It is possible to rent beach chairs to sit on a rocky platform, filled in with cement to make it flat, as there is no beach; a ladder allows you to climb down into the sea for a swim.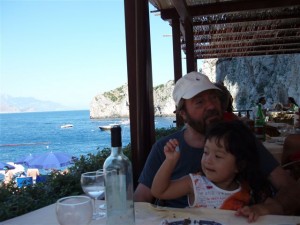 After sunbathing it is up to the terrace for a lovely lunch, which Da Luigi has been serving quite properly year after year. The first thing on the agenda is to order a large bottle of water and a bottle of Tiberio white wine that the waiter plunks into a large ice bucket and then it is time to settle down to study the menu.
My usual order is pasta or salad and some sort of fish or seafood to follow and maybe some fresh fruit to finish. It could not be a more perfect surrounding for a long lunch that could be punctuated with a swim mid-course.
You may wish to walk the lunch off by trudging up the hill after lunch or take the easy way by taking the scenic boat ride to Marina Piccolo and from there it is a short bus or taxi run up the sinuous road to the town of Capri.