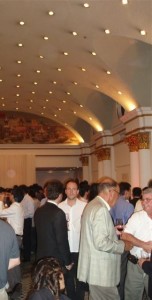 On Thursday evening The California Wine Company and World Class Wines held a tasting of California, Chilean, Argentian, and Australian wines in the lovely Pimarnman Room on the second floor of the Four Seasons Hotel.
I found the Alicanto Sauvignon Blanc 2007 from Chile 460 THB, San Jose de Apalta Chardonnay 2007 460 THB, Terralis Chardonnay – Torrontes 2007 445 THB, and Terralis Cabernet Sauvignon 2007 460 THB (all prices retail) both from Argentina were very good considering their price. An Esser Zinfandel from
California was interesting but not exactly the style I prefer; Zinfandel comes in all weights from very light to almost Port-like and everything in between. They presented a couple of Pinot Noirs from California one from Camus – Belle Glos "Clask & Telephone" Pinot Noir 2006 from Camus and another Pinot Noir 2006 from Sabastiani, both of them were a little bit heavy for my taste, but bound to do well in the Thai marketplace where body is essential for good sales. They had a good turnout as the room was packed, the hors d'ouvres prepared by the hotel were as usual, very good and it was a fine showing of a wide range of wines at various price points, some were excellent value for money.