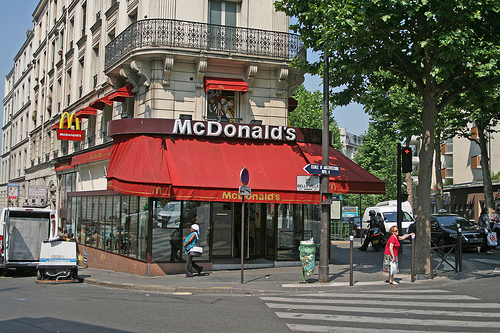 "We hate it and go to it. It's our paradox," a journalist for the French magazine Challenges, Alice Mérieux, said. "We're very anti-American in principle, but individually, if you're going to the movies and have to eat in 10 minutes, you go to McDonald's."
The favorite sandwich for most Europeans is the Big Mac, which, they eat without a drop of ketchup.
In the United Kingdom, the company is introducing a hamburger called the "Limited Edition Deluxe" with bacon, served on a ciabatta roll, with "mature" cheddar, Batavia lettuce, grilled onions, tangy tomato relish, and garlic mayonnaise. "It's a much more complicated burger," said Chris Young, who showcased the company's summer European menu in a 12-course tasting meal for reporters last week at McDonald's modernist Germany head office in an upscale suburb of Munich.
In France, McDonald's is rolling out le p'tit moutarde, a smaller-sized hamburger on a ciabatta roll smothered with a "sophisticated" mustard sauce. To suit European tastes, the chicken filets in the European sandwiches have a "grilled profile," instead of the more American "roasted profile," Mr. Young said.
The branch occupies the first three floors of a neo-baroque building in front of a modern fountain in the middle of Karlsplatz, the historic old city entrance where hordes of shoppers, commuters, and tourists converge. It's busier than any McDonald's in America.
It is anticipated that the new European McDonald's experience will become increasingly common in America. "The U.S. is kind of using us as a guinea pig," he said.
"In New York, we have to change the image and design of the restaurants. I think the European design would fit very nicely in a city like New York," he said.
For the complete article go to:
http://www.nysun.com/national/mcdonalds-takes-paris/57654/
France's contribution to fast food, Sodexo, follow this Link:
http://amusingthezillion.com/2010/11/23/meet-sodexo-luna-park-coney-islands-partner-for-on-site-service-solutions/