Posts Tagged 'Paris Bangkok'
Sunday, October 28th, 2012
Wednesday, February 1st, 2012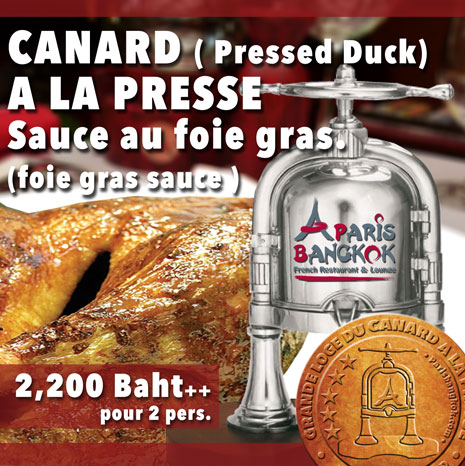 DUCK PRESSED A LA ROUANNAISE.
Pressed Duck a la Rouennaise is a lightly roasted duck which is pressed with a
special press. The extracted juice is cooked at the table with foie gras and
flambed with Armagnac.
Duck breasts are prepared by the Chef and mixed with the pressed duck sauce.
Open every day.
From 12h00 to 14h00
and 18h00 to 22h30(last order)
Parking and valet available

Saturday, January 29th, 2011
Paris Bangkok
120 Soi Saladang 1/1
Tel : 02-233-1990 Fax : 02-233-1989
Silom Bangrak 10500
Bangkok. Thailand
Email : info@parisbangkok.com
Web : www.parisbangkok.com ( french )
www.parisbangkok.com/en ( english )
Mobile web : m.parisbangkok.com
LATEST UPDATE Mar. 22 2011
The Leek terrine accompanied by a marmalade of onions and a container of vinaigrette was delicious and beautifully presented
The Navarin was a larger portion than I could handle, and possibly a side plate would have been helpful to dish out some of the contents of the bowl. I dislike eating directly from a bowl in the first place, no matter how inviting it looks
UPDATE We were right, they were in between chefs on the last visit, Paris Bangkok now has a new chef called Eloi, who evidently had cooked in some capacity at Drouant, Le Doyen and Jules Verne in Paris.  I sampled his new lunch menu (the new à la carte menu starts next week) and everything came out quite smoothly, considering he is acclimatizing to the new surroundings, even though I found the starter of herring a bit too sweet for my taste.
When I recently visited Paris Bangkok, someone in our party about the chef, and we were told that the chef was in France. When asked when he might return, they replied that they did not know. We got the impression that they were in between chefs. When I ordered rabbit terrine that I really enjoyed on my last visit, they said they were out of it. With these circumstances freshly in mind, I proceeded to order carefully and settled on fresh Marenne oysters from France, which were accompanied by some really good, dense rye bread, shallot vinegar, a half lemon . . . and a dish of mayonnaise?  The main dish, a steak with gratin potatoes arrived and was properly cooked (rare). The preparation of both dishes, although extremely simple, were properly executed. How could they go wrong with such a simple order you ask? It can happen, as simple things can sometimes be the most difficult to get right! Compliments to the staff!
A minor point: the dining room, at least for lunch, is quite dark in contrast to the bright daylight shining through the transparent cover above the outdoor terrace, and it is uncomfortable to adjust the eyes for such glaring differences. I would suggest that they raise the level of light in the darker dining room during daylight hours to balance the light; I am certain that this problem does not exist at night.
The service was prompt and very attentive throughout the lunch.
The dining room looking on to the covered terrace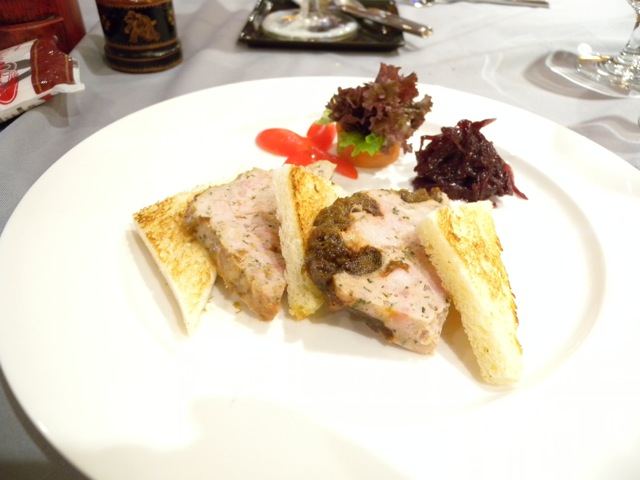 Rabbit terrine with figs, from a previous visit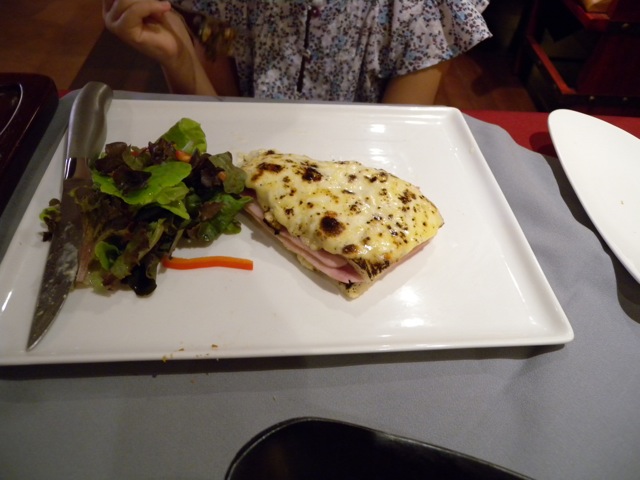 A photo of a croque-monsieur taken on a previous visit
Beef Stroganoff without noodles, as served at Paris Bangkok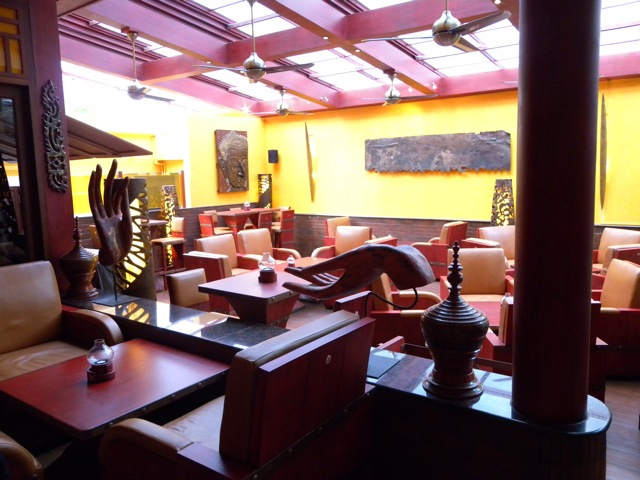 The covered terrace
Profieteroles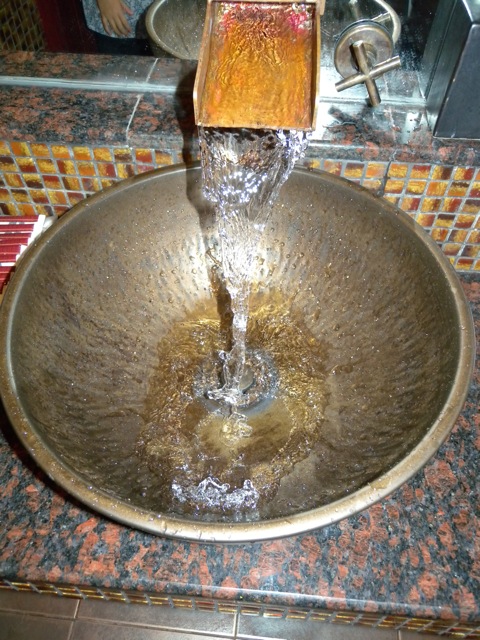 The attractive spout and basin in the men's toilet