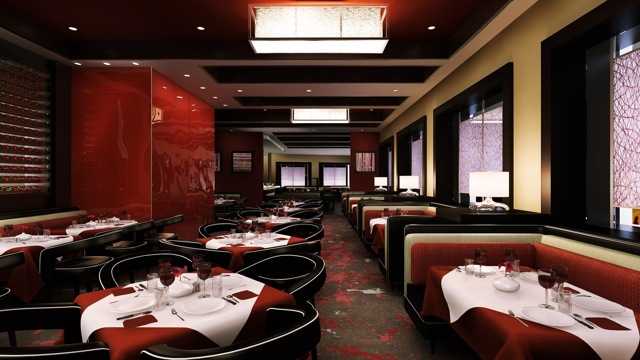 Valentino & Vin Bar Houston
Hotel Derek, 2525 West Loop South, Houston, Texas 77027
For Reservations call: 713-850-9200
http://www.valentinorestaurant.com
Opening Hours: The Bistro at Valentino serves breakfast, lunch and dinner.  The fine dining room opens at 5:00 p.m. nightly and is available during the day for private functions seven days a week.
Complimentary valet parking
Credit Cards: All Major
Prices: Moderate – Expensive
Expect Piero Selvaggio, founder of Valentino, and partner and Executive Chef Luciano Pellegrini to present as many daily specials amalgamating local produce and specialties as possible. These will take the form of innovative dishes on a small plate or "primi" format and an ever-changing array of assorted cold crudo at the Italian raw bar; you might say similar to Italian sashimi.  Selvaggio and Pellegrini love to experiment with food, fusing authentic Italian cooking with the best that local food markets have to offer.  And, this is Houston after all, so no menu would be complete without beef—Italian style, of course.  Try Pellegrini's favorite baby back ribs cooked slowly in a smoker and basted with an original Tuscan barbecue sauce.
Sebastiano Mazzucato, a veteran of the Houston dining scene, a charming and hospitable Italian who is experienced at handling the front of the house, has been chosen to serve as "Direttore" for the new Valentino Houston at the Hotel Derek.
Following is an interesting menu, their rendition of "Italian Sashimi":
CRUDO BAR
ITALIAN SASHIMI
CHEFS DAILY PICK
TWO FOR $8.5-FOUR FOR $16.5-SIX FOR $25
VIN COTTO AHI TUNA, RADISH
$4.5
PASSION FRUIT WHITE TUNA, FENNEL
$4.5
RED SNAPPER, LEMON AIOLI
$4.5
GREEN APPLE SCALLOP, APPLE TARTARE
$4.5
BLOOD ORANGE LOBSTER TAIL, BABY ARUGULA
$MK
RASPBERRY VINEGAR OYSTERS, MICRO MUSTARD
$MK
SOUR GRAPE TASMANIAN SALMON
$4.5
CARPACCIO
SMOKED SWORDFISH, LEMON SAUCE
$5
STURGEON, CREN AIOLI
$5
BEEF CIPRIANI
$5
VENISON, MIXED BERRiES RAGU
$5
TARTARE
TUNA AGRUMATO, CAPERS & SHALLOTS
$7
BLUE MARLIN, WATERCRESS & GRAPEFRUIT
$7
WAGYU BEEF THE TRADITIONAL WAY
$9
SPICY SCALLOP WITH CUCUMBER
$7
EXECUTIVE CHEF:
CUNNINGHAME WEST
The Valentino Restaurant Group has under its umbrella: Valentino, the flagship restaurant founded in Santa Monica in 1972 by restaurateur Piero Selvaggio. Following this success, Selvaggio opened Valentino Las Vegas at the Venetian Hotel in 1999 and Giorgio, in the Mandalay Bay Hotel and Casino in 2004. He now has just opened Valentino Houston and Vin Bar in Houston's chic Hotel Derek.