111/5 Moo 3, Chiang Mai Prao Road
Tel. (053) 853098-9
Fax: (053) 247346, 849744
Tel. 053-853098-9, 053-849744
Website: http://www.buonissimo.co.th
Opening Hours: 11:30 am – 2:30 pm, 6:30 pm – 10:30 pm
Credit Cards: All Major
Inexpensive – Moderate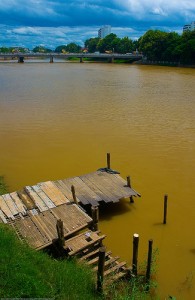 Buonissimo is an Italian restaurant, delicatessen, wine shop and bakery by the Ping River on Faham Road. The main restaurant is outside covered by a huge canopy; there is another section further down on the bank of the river. The most comfortable place to be seated is the small; 50-seat air-conditioned enclosed restaurant that is elevated a few meters above ground level to enable a view of the Ping River.
The owner Sergio, imports products and wines from Italy and sells them to the hotels and other restaurants in Chiang Mai as well as using them for Buonissimo.
The main attraction to dine here is to look at the river while you drink wine from their enormous, mainly Italian, selection of wines. This is probably the best wine list in Chiang Mai and the best pricing I have seen in Thailand due to his being a distributor for wine companies in Bangkok.
All breads and pastas are homemade, and the café deli offers an array of products to take home.
The menu is very extensive as are most of the Italian restaurants in this area.