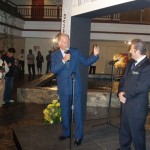 Artist, Designer, Marco Minotti introduced his work entitled "Dynamic Emotions" for the first time, to Bangkok at The Raffles, Nai Lert Park Hotel.
It was a pleasure to attend the opening ceremony last evening presided over by His Excellency, Ignazio Di Pace, Italian Ambassador to Thailand.
I was invited by Tamara Dameo representing G Four International Ltd., who sponsored all the wines for the event, which as usual, were excellent.
Marco Minotti's paintings will be on display daily from June 10 to 20 (10am-7pm) at the Garden Wing (ground level). On June 12th at 6:30pm there will be a "art dinner" at Ma Maison Restaurant on the lower level of the hotel Baht 3,025 ++ that will include an artwork signed and numbered by the artist exclusively created for this event. Part of the proceeds will be donated to: "Treasure Our Elephants" Northern Elephant Preservation Foundation, Thailand.