This Concept Sounds Very Interesting: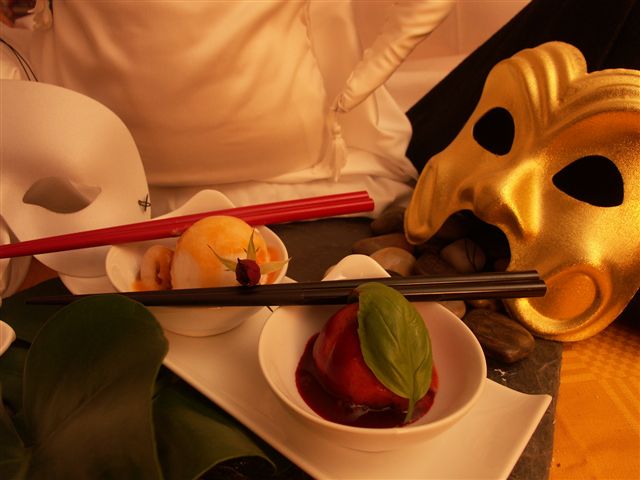 I have heard some good reports about the artisanale ice cream that is made by this company using only organic and natural products at:
Delicieuse Café and Boutique
2503 Artesia Blvd., Redondo Beach, CA 90278, 310.793.7979
16 Delicieuse Flavors of Ice Cream and Sorbet are Sold Individually in Scoops, Pint and Quart sized containers at the Café (Flavors are Seasonal).
Monday thru Thursday (Not open to the public. Dedicated to ice cream manufacturing)
Friday – 12:00 noon to 3:00 pm (Lunch) 3:00 pm to 6:00 pm (Dessert Only)
Saturday – 12:00 noon to 9:00 pm (Lunch and Dinner. Last dinner service at 8:00 pm)
Sunday – 12:00 noon to 4:00 pm (Lunch only. Last lunch service at 3:00 pm)
For more information: http://www.icedreamonline.com
Since each fruit harvested in never the same, the flavor and quality of Delicieuse ice cream and sorbet is controlled by a refractometer.
At this time, it has one store in Redondo Beach with probably more stores to follow? You may also purchase some of the goat milk ice cream and sorbets at:
Whole Foods, Santa Monica,
2201 Wilshire Blvd., Santa Monica, CA 90403, 310.315.0662
Beverly Glen Marketplace
2964 Beverly Glen Circle, Los Angeles, CA 90077, 310.475.0829
Surfas
8777 W. Washington Blvd., Culver City, CA 90232, 310.559.4770
The flavors are amazing in their variation and inventiveness:
Les Glaces Delicieuse, DELICIEUSE ICE CREAM FLAVORS
Figue ~ Fig
Menthe ~ Mint
Café ~ Coffee
Coco ~ Coconut
Yaourt ~ Yogurt
Safran ~ Affron
Cognac ~ Cognac
Canelle ~ Cinnamon
Fraise ~ Strawberry
Pistache ~ Pistachio
Chene de Rians ~ Oak
Lavande ~ Lavender
Vanille ~ Vanilla Bean
Cacahutte ~ Peanut Butter
Peche Blanche ~ White Peach
Syrop D`Erable ~ Maple Syrup
Fromage Blanc ~ Fromage Blanc
Glace Mangue ~ Mango Ice Cream
Banana Flambee ~ Banana Flambee
Glace Vanille Au Lait Chevre ~ Goat's Milk
Caramel a la Fleur de Sel ~ Caramel with Salt
Au Jeune Riz Vietnamien ~ Vietnamese Rice
Chocolat aux Noisette ~ Chocolate Hazelnut
Creme Glacee de Earl Grey ~ Earl Grey Tea Ice Cream
Chocolat A La Couverture Concorde ~ Deep Dark Chocolate
Dua avec Coco ~ Asian Vanilla Ice Cream with Young coconut
GOAT MILK ICE CREAM
Lavender Goat's Milk Ice Cream
Dark Chocolate Goat's Milk Ice Cream
Goat's Milk Yougurt Ice Cream
Caramel Goat's Milk Ice Cream with Salt
Peanut Butter Goat's Milk Ice Cream
Coffee with Chocolate Goat's Milk Ice Cream