Posts Tagged 'Tokyo'
Monday, April 21st, 2008
Akasaka Emerald Bld., 2A
2-8-13 Akasaka Hinatoku
Tokyo, 107-0052 Japan
Tel. 03-3583-5610
Credit cards: All Major
Prices:Moderate
http://foodpia.geocities.jp/restaurant_kaeriyama/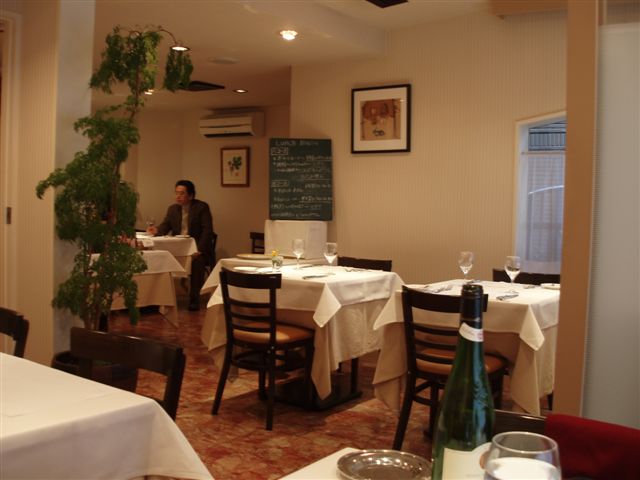 France Chubo Kaeriyama is a hidden treasure situated in a fairly typical Japanese
restaurant space, accessed by climbing up a tiny circular staircase from street level. It seats only about 25 persons and serves unswerving and marvelous classic French cuisine. Reservations are highly advised.
The chef/owner is Koji Kaeriyama, who previously worked in
various French restaurants in Tokyo, owned a restaurant in
Paris, and also did a stint working in a few restaurants in
Los Angeles before realizing his dream to open his own
restaurant in Tokyo.
Starters:
Terrine of foie gras. jellied rabbit terrine, assiette de charcutrie
Mains:
Duck confit with white beans, Beef cheek braised with red wine sauce
There are two prix fixe menus for lunch ¥1800 and ¥2500
Below are listed some typical lunch starters:
Pork terrine, seasonal fried river fish, minestrone with gobo root and white and brown beans, onion tart.
Main course: Tranche of Halibut coated with five kinds of crispy rice,
Beef cheek in red wine demi-glace sauce, pork with tomato flavored veal stock.
Dessert: floating island, fresh strawberries diced with mint and served with vanilla ice cream.
He receives organically raised pork from Hokkaido and visits the Tsukiji fish market in Tokyo most mornings and the produce he uses is always top quality as well as being fresh. This charming restaurant is definitely worth a visit as it is run with loving care.